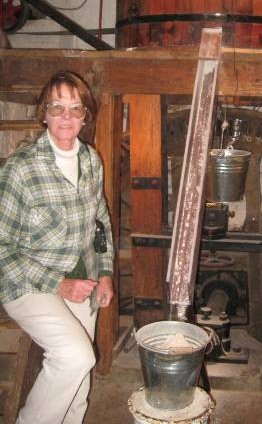 Joanna Marx passed away unexpectedly on May 25. She has been a TIMS member for many years.
Her special interest in historical technology, engineering and industrial structures led to her involvement with Mostert's Mill: she chairs the Friends of Mostert's Mill (FoMM), a daughter of VASSA, established in 1993. She has been a member of the Mills Section of the Society for the Preservation of Ancient Buildings (SPAB) (UK) for decades.
Her original training in natural sciences led to many years of biomedical research and academic editing. During her time in London in the sixties she developed an abiding interest in historical architecture which she followed up once back in Cape Town, by organising many excursions for the Vernacular Architecture Society of South Africa(VASSA).
Recruited by the NMC, she was responsible for heritage resources management in the Great and Little Karoo, Southern Cape and Overberg. She served on committees for large projects such as the Gamkaskloof Advisory Committee and the Cango Caves Scientific Advisory Committee.
When NMC was superseded by SAHRA, the emphasis shifted from preserving individual buildings to defining, retaining and enhancing the special qualities of places and cultural landscape. She maintains contact with conservation bodies and municipal officials locally and in country towns.