Midterm Tour in Bulgaria
Basic information
The TIMS Midterm Tour is organised by Rositsa Bineva.
The tentative dates for the first 2 tours are as follows:
Tour 1: Arrival 23 September - Tour 24-30 September - Departure 1 October
Tour 2: Arrival 9 October - Tour 10-16 October - Departure 17 October
The objective is not to reject any TIMS members who want to join the tour. Therefore, if needed, a third tour will be organised in 2023.
Corona: all participants must have been fully vaccinated.
Registration will start in Mai or June. An email announcing the start of registration will be sent to all members.
The Tour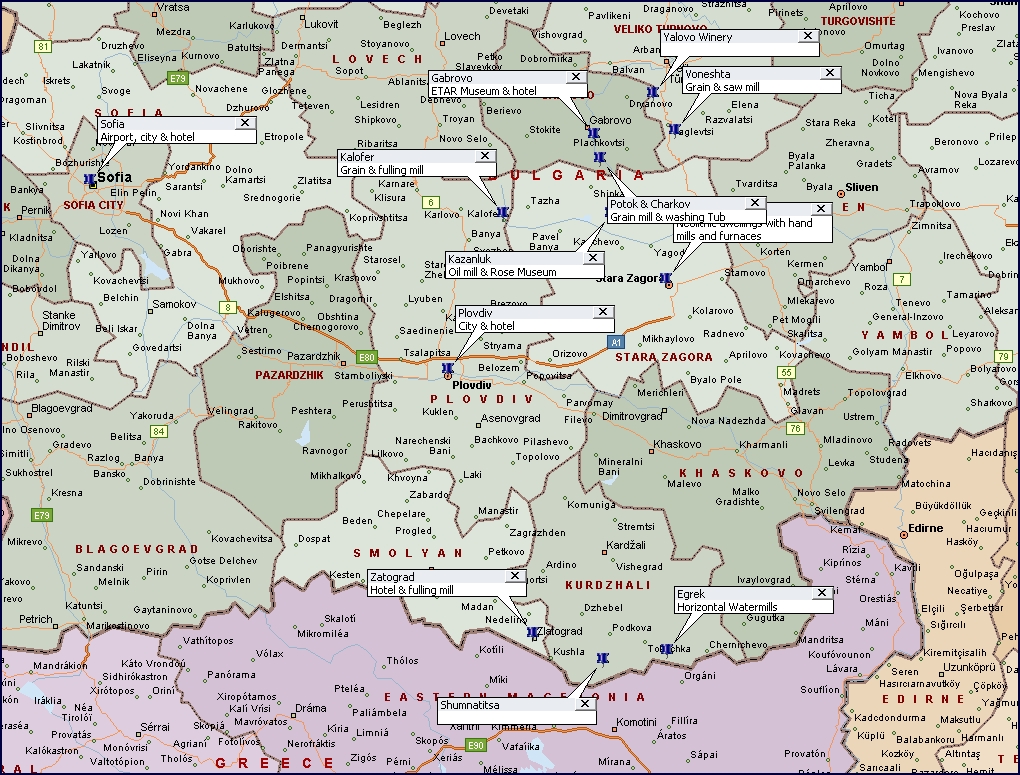 A larger map can be downloaded here.
Day 1 - Arrival and overnight in Sofia
Day 2 - Sofia, Kalofer, overnight in Plovdiv
Day 3 - Plovdiv, Egrek, overnight in Zlatograd
Day 4 - Zlatograd, Shumnatitsa, overnight in Stara Zagora - Neolithic dwellings with hand mills and furnaces
Day 5 - Stara Zagora, Kazanlak, overnight museum "Etar"
Day 6 - Etar Museum, overnight at Etar Museum
Day 7 - Etar Museum, Voneshta Voda - picnic, Yalovo - wine tasting,
Day 8 - Etar Museum, Potoka village
Day 9 - Departure
Articles in IM101 - December 2020
Summary of articles in International Molinology No 101 which were published in December 2020
'The Sugar Windmills' by Willem van Bergen.
This article deals specifically with wind-driven cane sugar mills of the Caribbean. The author explains that these were situated along the windward coasts, and very few complete examples now exist. The earliest form were horizontal mills but from the early 18th c. were of the vertical tower type. The openings in the towers were always aligned with the prevailing trade winds; the mills had no brake and the caps had limited winding capability (due to the annexe for the crusher). Vertical crushing rollers were replaced by horizontal ones from around 1800. The article describes the equipment and staffing of the mills, and includes a number of historic photographs.
'An English country millwright at the beginning of the 20th century: Thompson & Son of Alford in Lincolnshire' by Colin Moore.
This paper is the continuation of the history of Thompson's of Alford whose beginnings were published in TIMS Journal No 97, December 2018. It covers the period from 1900 to the death of Robert (Senior) on 5 January 1933. During this period the company survived the hardships of World War I and the huge reduction in working traditional mills in Lincolnshire, and then the economic depression of the 1930s. They did so by adapting their skills to other work and extending their radius of business, using the railways, tractor, motor cycle and car.
'Reconstructing the distribution of boat mills in Northern Poland in the early 19th century' by Dariusz Brykała and Maciej Prarat.
Floating mills were a significant element of the large European river valleys, but there has been little published on those in Poland. This article reflects on the research by the authors on the location of these mills in the Vistula River basin, from historical sources. This task was often made difficult due to both their frequent movement and the attitude of the authorities (they were seen generally to be just an obstacle to navigation). This attitude ultimately led to their demise.
'Kingsgarth Mill, Barton on Humber (N. Lincolnshire, England) and the pioneering work of Robert Sutton' by Jon Sass.
The shell of this elegant windmill is now occupied by a restaurant, but there is a fascinating history hidden here. Built around 1800 from local clunch and face with brick, it was initially fitted with six sails of Sutton's Patent for grinding chalk and pearl barley production. These were self-regulating but had shutters running the length of the sails; this could not have been a success as they were replaced with sails of Cubitt's Patent around 1820. At that time it was converted to a corn mill. Other features of the work of the millwrights, Norman & Smithson, are described here. Illustrated with the drawings of John Brandrick.
'Description of an exceptional architectural ensemble at the beginning of the 20th century, and the conflagration of the Mills of Meaux (Seine-et-Marne, France), June 16, 1920, through old postcards' by Jean-Pierre Henri Azéma.
The five mills on the Market Bridge of Meaux dated back to medieval times and were a truly astounding sight. They all operated as 'moulin pendants', elevated on huge stilts and able to work across a wide range of river level conditions. The author here displays some of his best images of the mills from his collection of postcards c.1900. He uses this information to analyse the buildings and their layout. He then goes on to describe the course of the terrible fire that destroyed them all in one night (June 17, 1920), again illustrated by contemporary postcard photographs.
Also included in this edition of International Molinology are an obituary to Johan Bakker, and there is one book review, by Leo van der Drift, on 'How the Wind Spun. History and present of traditional windmills, windmills with annular sails and windpumps (Co Roztáčel Vítr. Historie a současnost větrných mlýnů, mlýnků a čerpadel)', by Jan Doubek, Břetislav Koč and Radim Urbánek.