Basic information
The TIMS Midterm Tour is organised by Rositsa Bineva and Dimitar "Mitko" Balabanov .
The dates for the first 2 tours are as follows:
Tour 1: Arrival 23 September - Tour 24-30 September - Departure 1 October
Tour 2: Arrival 9 October - Tour 10-16 October - Departure 17 October
Corona: all participants must have been fully vaccinated incl. booster vaccination(s)
Both tours will take place as planned, as there are sufficient participants.
Registration for both tours is still possible.
Detailed information
The following downloadable files give you the complete details and necessary information of the tour:
Payment Instructions:
Questions
Q1. At what time should I arrive in Sofia?
A1. It is planned that we all meet at 19:00 hours in the lobby of the hotel and from there we walk to the restaurant.
Q2. When will the bus arrive at the airport (Sofia) on the last day?
A2. The bus will leave at 7 o'clock and arrive 11 o'clock at the airport. In case you need to be there earlier or later, you will have to use a taxi.
Q3. We would like to arrive 1-2 days earlier in Sofia. Can the organizers book the additiona night(s), or do we have to book by ourselves?
A3. The organizers can book additional night(s) in the hotel, when informed to do so as early a possible. Payment of the additional night(s) has to be done by the particpants themselves in Sofia.
Map of the Tour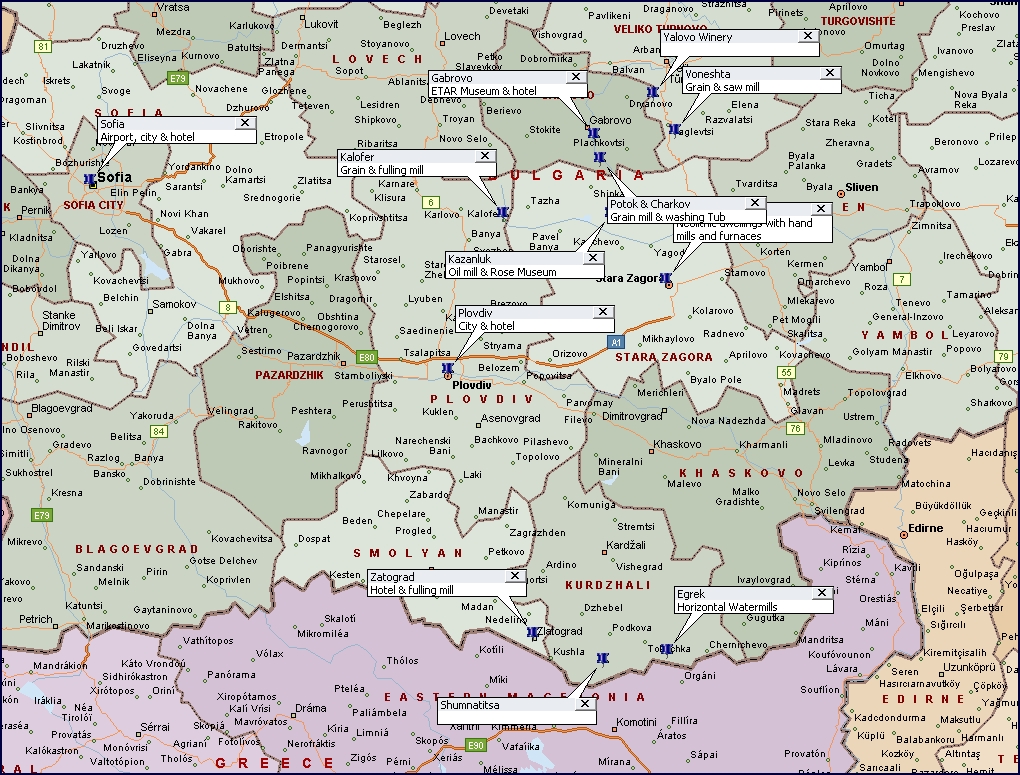 A larger map can be downloaded here.
Day 1 - Arrival and overnight in Sofia
Day 2 - Sofia, Kalofer, overnight in Plovdiv
Day 3 - Plovdiv, Egrek, overnight in Zlatograd
Day 4 - Zlatograd, Shumnatitsa, overnight in Stara Zagora - Neolithic dwellings with hand mills and furnaces
Day 5 - Stara Zagora, Kazanlak, overnight in Gabrovo
Day 6 - Etar Museum, overnight in Gabrovo
Day 7 - Etar Museum, Voneshta Voda - picnic, Yalovo - wine tasting
Day 8 - Etar Museum, Potoka village
Day 9 - Departure