NL2007 Post-Tour Participants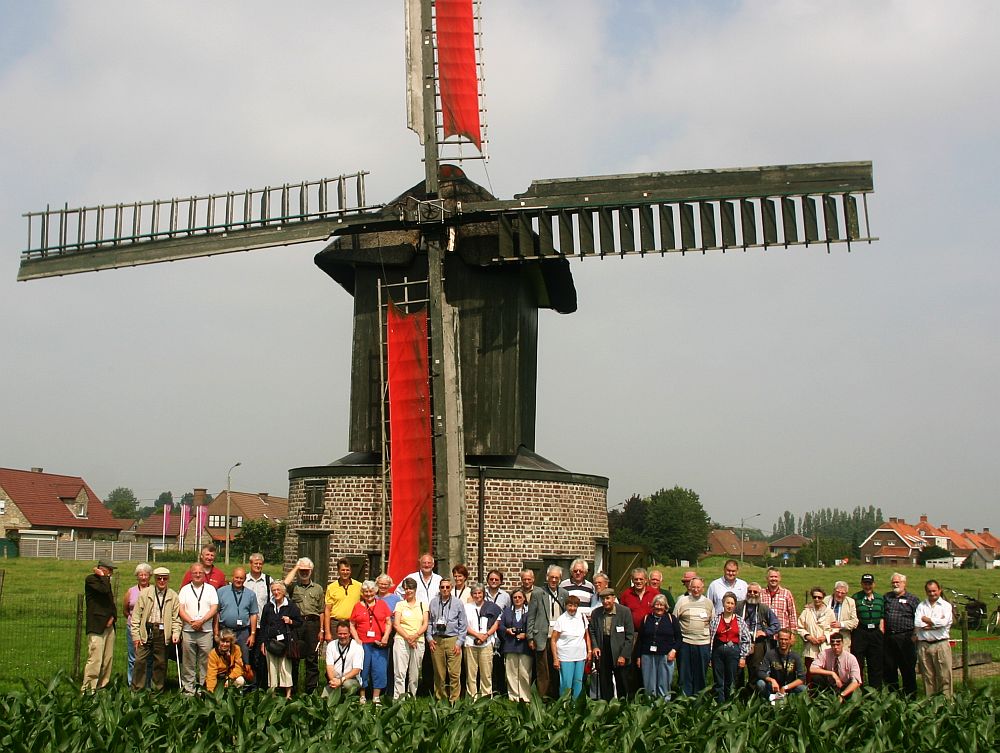 NL2007 Post-Tour
Post-Tour "Mill wonders in Flanders"
 

 

 

 

 

 

 

 

 

 

 

 

The tour started on Sunday June 10th after breakfast and took the particpants in 4 days to the wonderful mills of Belgian Flanders.

 

The emphasis was on both originality and successful restoration and will include aspects of the typical Flemish heritage of many centuries. See appendix 2 for a summary.

 

The tour ended on Wednesday afternoon June 13th, late afternoon.




 

Schedule: (still subject to alteration)

Sunday      June 10th

(tour to start after breakfast) world's tallest windmill (under reconstruction) at Princen-hage; post mill at Zundert; border crossing; water-powered oil mill; chain-driven cap winder; flour-producing tower mill with a collection of steam engines (all in the province of Antwerp); hotel in Antwerp

 

Monday      June 11th

two cap winders; a very old watermill; oil mill originally horse-driven; combined flour and oil smock mill; post mill with two pairs of stones; water-powered oil and corn mill; post mill operated by one of the area's last professional millers and millwrights (all in the province of Antwerp); hotel in Antwerp

 

Tuesday     June 12th

(provinces of East and West Flanders) three tower mills in working order (one is octagonal); post mill on a tall roundhouse with a reefing stage; three cap winders (one with patent sails); small flax scutching hollow post mill; working tide mill (tide permitting!); hotel in Gent

 

Wednesday June 13th

watermill with gearing in a typical brick-walled pit; idyllically situated overshot watermill; another post mill; last remaining watermill for paper production (museum) in Flanders; drop-off at Brussels-Midi railway station; border crossing; drop-offs at Amsterdam Schiphol airport (or near-by hotel) and hotel Mooi Veluwe at Putten

 

(permission obtained from photographer)

 

 

(permission obtained from photographer)

 

 

 

 

 

Last update: April 29th, 2012
NL2007 Photographs
 Photographs of the 12th symposium
 of The International Molinological Society
All photographs and illustrations by Leo van der Drift and Diederik Wijnmalen, unless stated otherwise.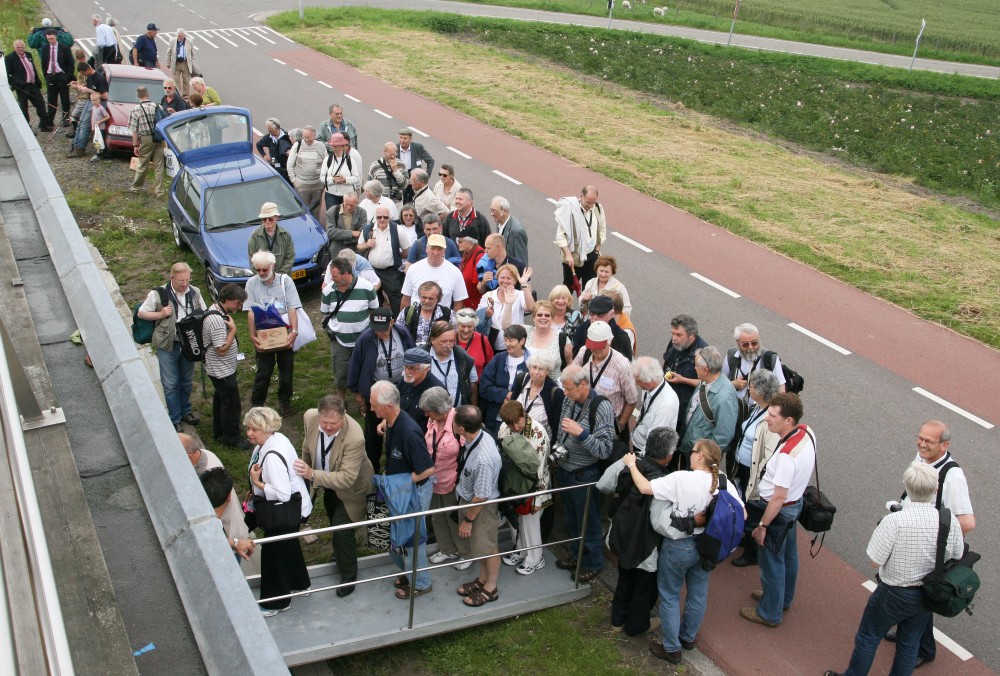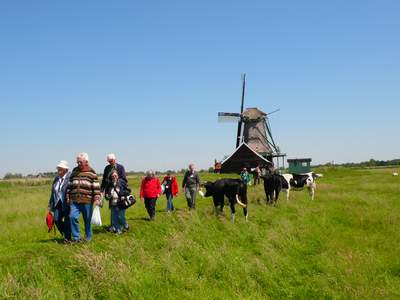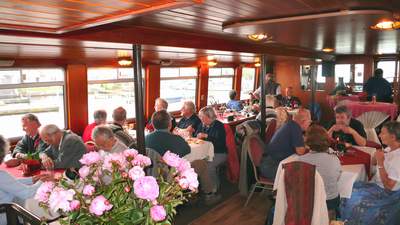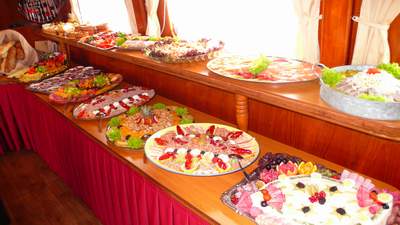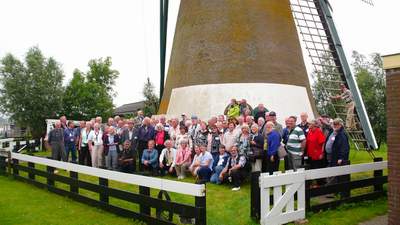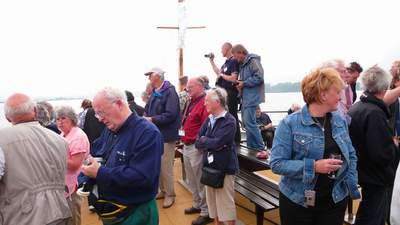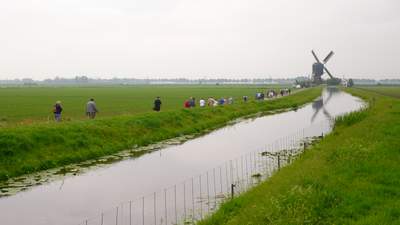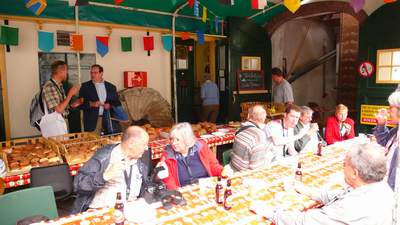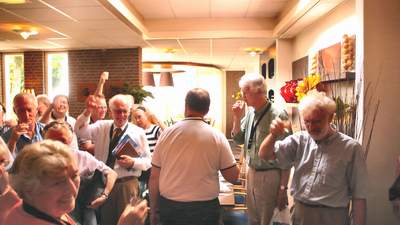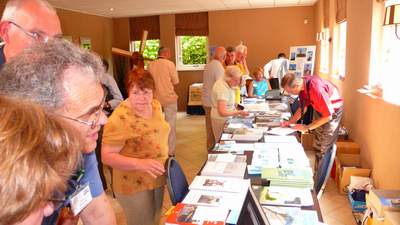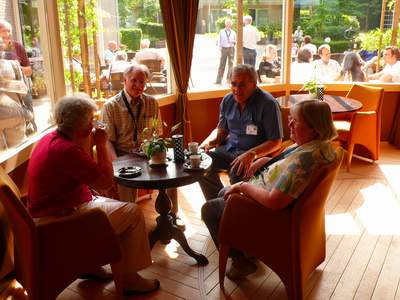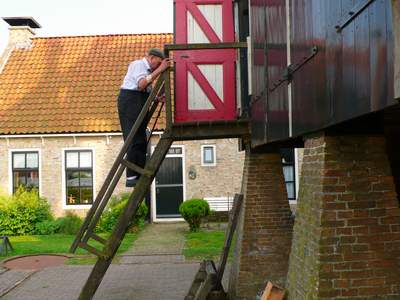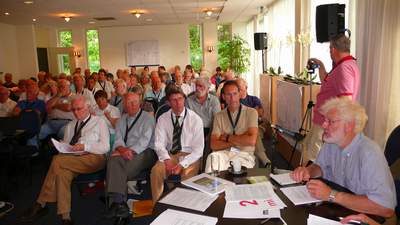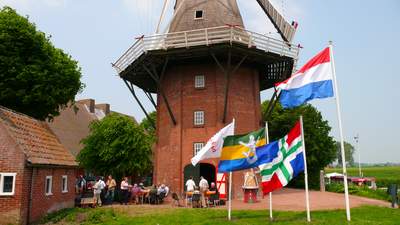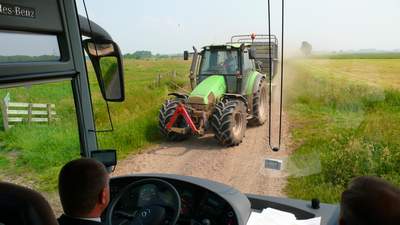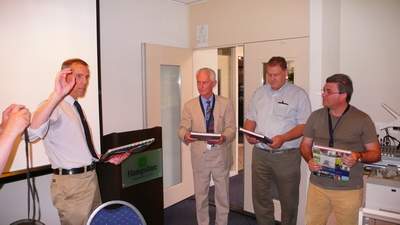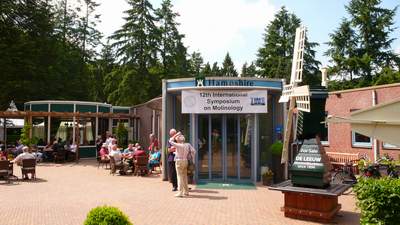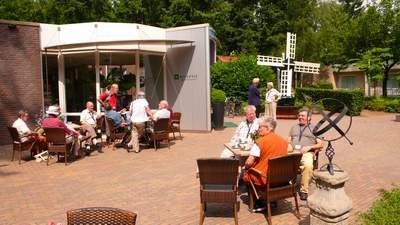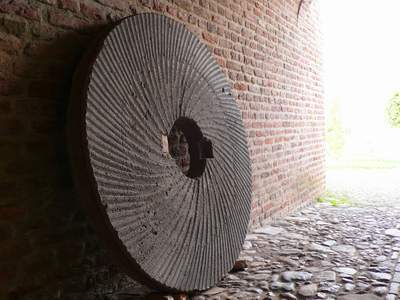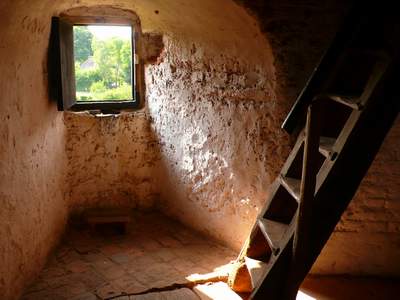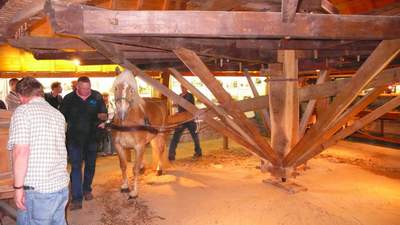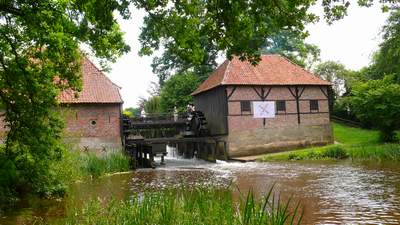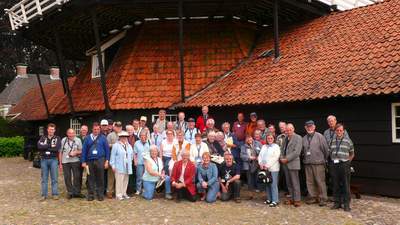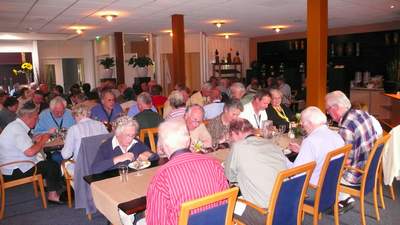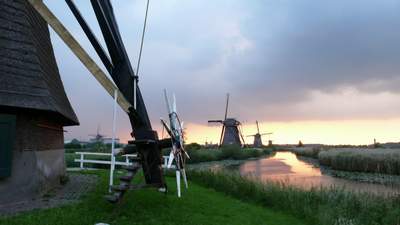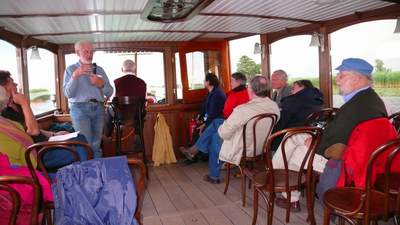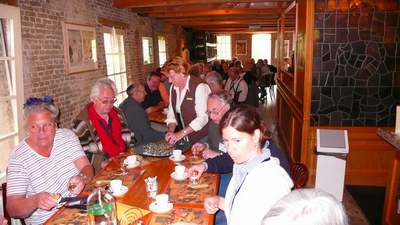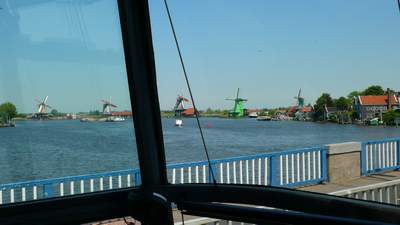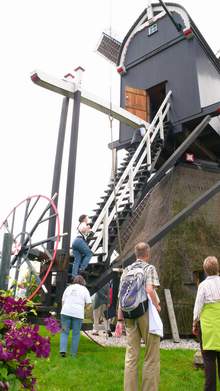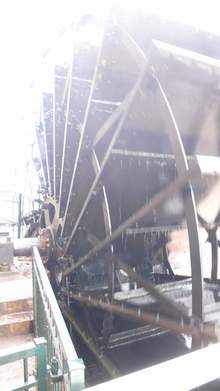 Last update: April 29th, 2012
DK2011 Venue
The Symposium Venue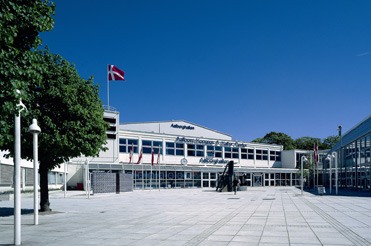 The Symposium venue was at the excellent Aalborg Congress & Culture Centre, which is situated in the town centre of Aalborg, 5 minutes walk from the railway station (direct connection from Copenhagen Airport and Copenhagen main station every hour) and 7 km from Aalborg Airport (8 minutes by taxi). For further information please see: http://uk.akkc.dk/meetings-congress/presentation-of-centre. We will be accommodated in the Quality Hotel Aalborg, which is integral with the congress centre: http://quality-hotel-aalborg.h-rez.com. Aalborg is an industrial and university city in Northern Jutland. Its population, as of 2010, is 197,426, making it the fourth largest city in the country.
The last two nights we stayed at Christiansminde in Svendborg on Fyn: http://www.christiansminde.dk/.
Formal registration for Symposium took place on Saturday 3rd September, 2011 (1 – 6 p.m.) in the hotel lobby.
The TIMS general meeting was held at Aalborg Congress & Culture Centre on 7th September, at 2 p.m.
NL2007 12th Symposium The Netherlands 2007
TIMS  Symposia on Molinology
The 12 TIMS Symposium was held in the Netherlands from the 2nd till the 10th of June 2007

 

 

 

 

Pre-Tour "Highlights of Holland"

 

Symposium Programme & Schedule

 

Symposium Photographs

 

Post-Tour "Mill wonders in Flanders"

 

 

 

 

 

 
DK2011 Symposium Map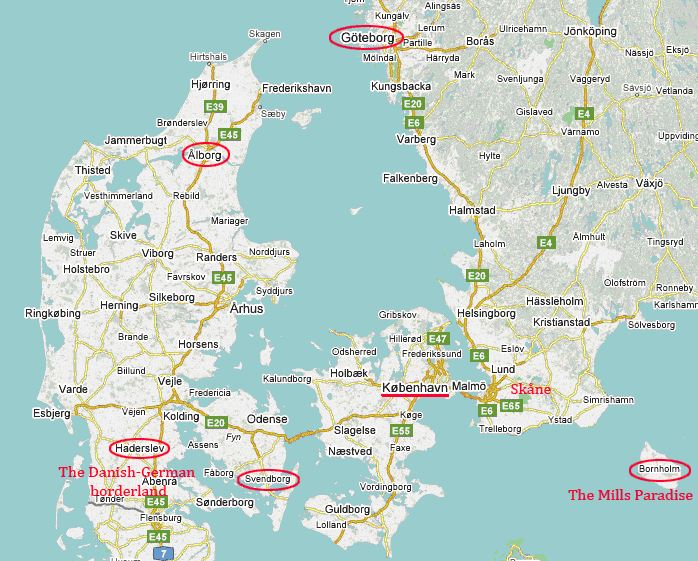 TIMS Symposia on Molinology
| | | |
| --- | --- | --- |
| 16th Symposium | September 2024 | Portugal |
| 15th Symposium | 17-25 August 2019 | Germany, Berlin |
| 14th Symposium | 6-14 June 2015 | Romania, Sibiu |
| 13th Symposium | 3 - 11 Sept. 2011 | Denmark, Aalborg |
| 12th Symposium | 2 - 10 June 2007 | Netherlands |
| 11th Symposium | 25 Sept - 2 Oct. 2004 | Portugal |
| 10th Symposium | 16 - 24 Sept. 2000 | USA, Stratford Hall |
| 9th Symposium | 2 - 9 Aug. 1997 | Hungary, Budapest |
| 8th Symposium | 3 - 10 July 1993 | Wales - GB, Aberystwyth |
| 7th Symposium | 13 - 18 Aug. 1989 | Germany, Sankelmark |
| 6th Symposium | 14 - 20 July 1985 | Belgium, Gent |
| 5th Symposium | 5 - 10 Apr. 1982 | France, Claye-Souilly |
| 4th Symposium | 1 - 8 Sept. 1977 | England - GB, Matlock |
| 3rd Symposium | 6 - 11 May 1973 | Netherlands, Oosterbeek |
| 2nd Symposium | 12 - 17 May 1969 | Denmark, Holte |
| 1st Symposium | 29 Sept. - 4 Oct. 1965 | Portugal, Lisboa |
DK2011 Pre Symposium Tour
Pre-Symposium Tour: "Bornholm, Mill Paradise"
A pre-Symposium tour was offered to Bornholm and Skåne. Bornholm is an island situated in the middle of the Baltic Sea. It is the only rocky island in Denmark, and often referred to as the "Sunshine Island" because it is one of the locations in Denmark with the most recorded hours of sunshine annually. This small island is also a mill paradise with 3 watermills, 3 post mills and 11 smock mills (in Denmark called "Dutch mills"). One of the post mills is the oldest windmill in Denmark, built in 1629. From there we continued through Skåne (southern Sweden), where 3 interesting windmills wre visited, and we reached Aalborg the 3rd September in time for the Symposium. The fee for the pre tour was EUR 600 including accommodation, transport by coach, bridge toll and ferries, entrance fees, 3 meals a day (except for lunch on 3 September).
30th August – 3rd September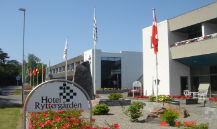 Accommodation at hotel Ryttergården, Rønne.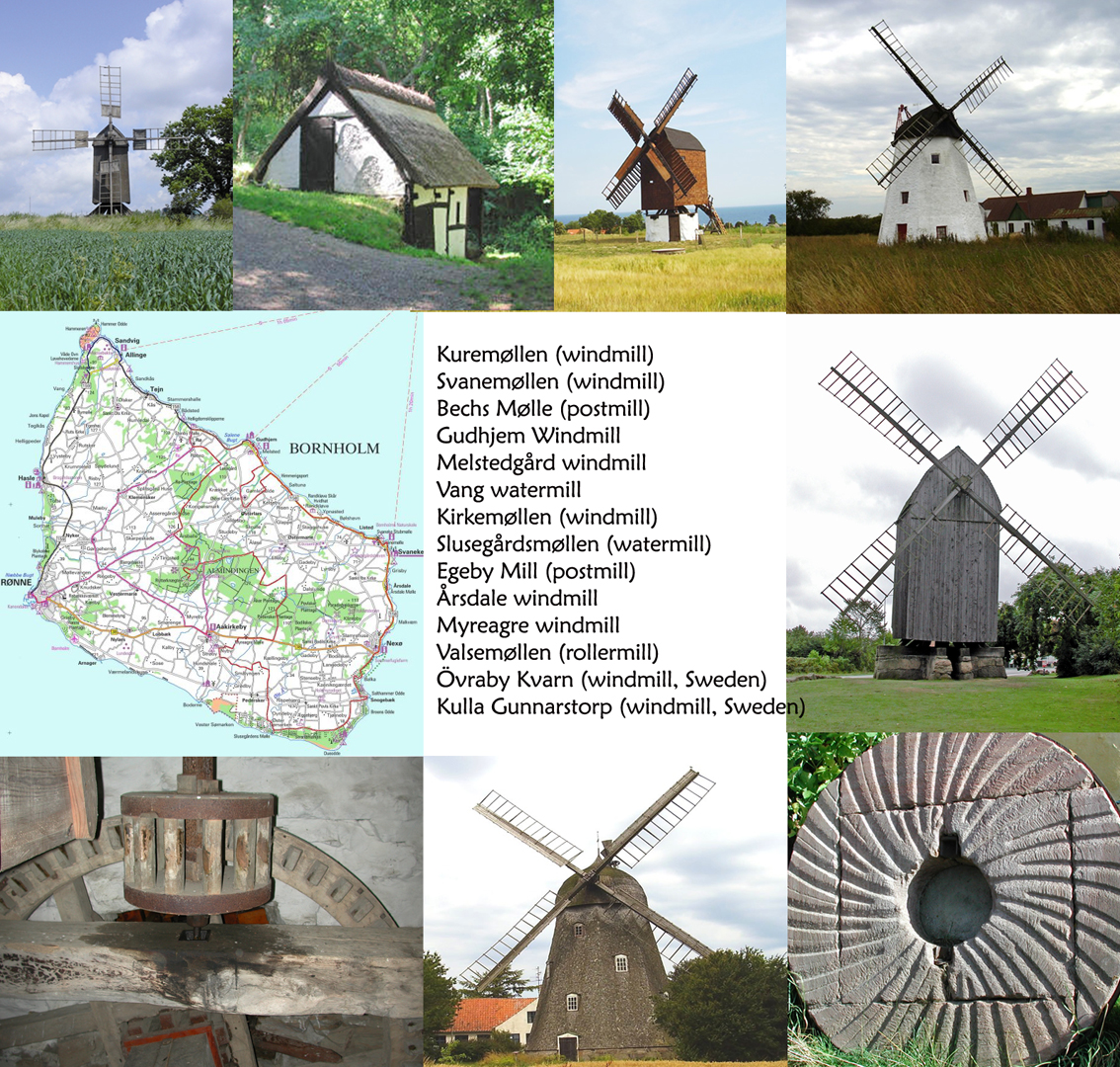 Past Symposia
| | | |
| --- | --- | --- |
| 15th Symposium | 17-25 August 2019 | Germany, Berlin |
| 14th Symposium | 6-14 June 2015 | Romania, Sibiu |
| 13th Symposium | 3 - 11 Sept. 2011 | Denmark, Aalborg |
| 12th Symposium | 2 - 10 June 2007 | Netherlands |
| 11th Symposium | 25 Sept - 2 Oct. 2004 | Portugal |
| 10th Symposium | 16 - 24 Sept. 2000 | USA, Stratford Hall |
| 9th Symposium | 2 - 9 Aug. 1997 | Hungary, Budapest |
| 8th Symposium | 3 - 10 July 1993 | Wales - GB, Aberystwyth |
| 7th Symposium | 13 - 18 Aug. 1989 | Germany, Sankelmark |
| 6th Symposium | 14 - 20 July 1985 | Belgium, Gent |
| 5th Symposium | 5 - 10 Apr. 1982 | France, Claye-Souilly |
| 4th Symposium | 1 - 8 Sept. 1977 | England - GB, Matlock |
| 3rd Symposium | 6 - 11 May 1973 | Netherlands, Oosterbeek |
| 2nd Symposium | 12 - 17 May 1969 | Denmark, Holte |
| 1st Symposium | 29 Sept. - 4 Oct. 1965 | Portugal, Lisboa |