RO2015 Google Earth Overview
Find below an overview of the Symposium locations: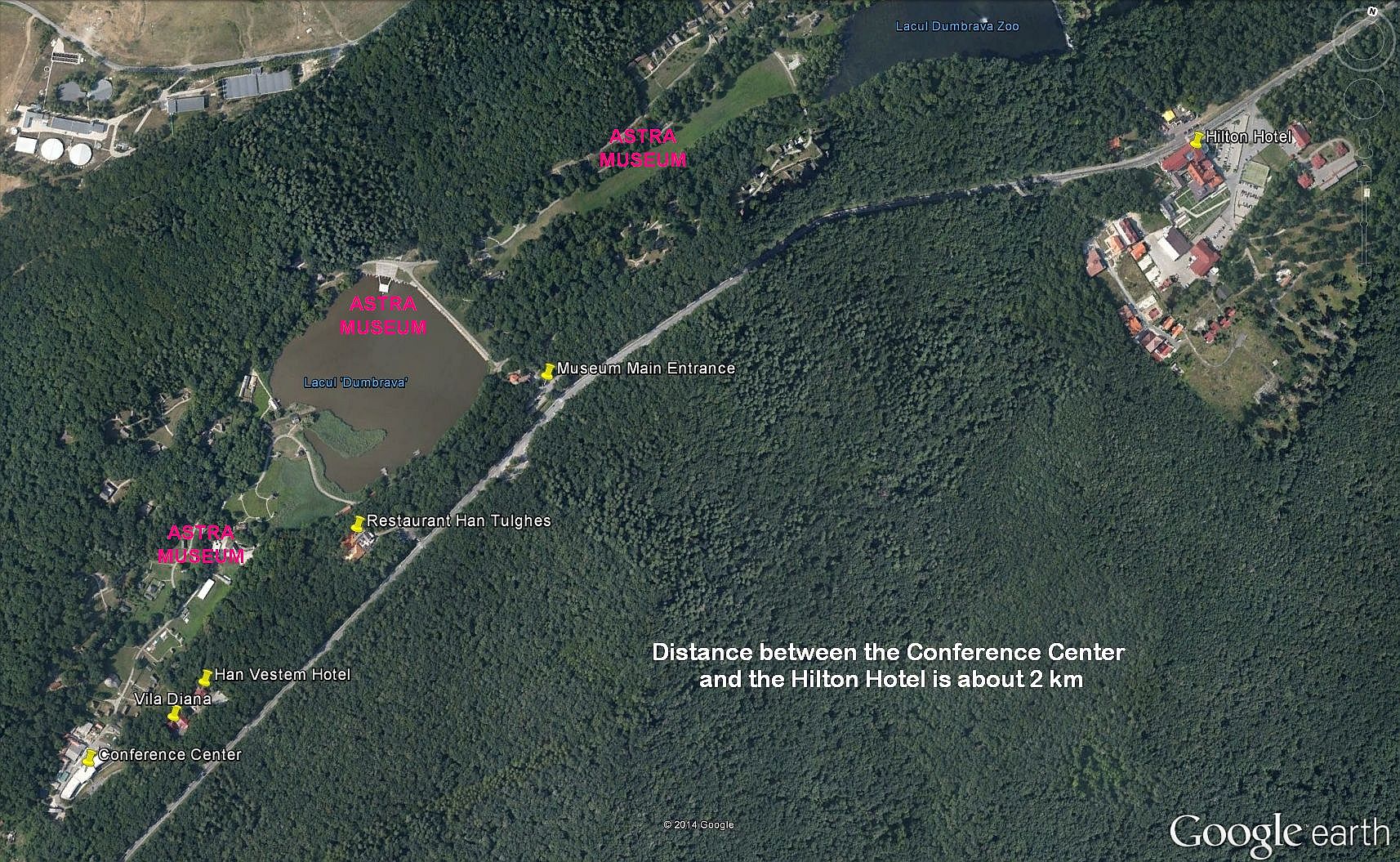 RO2015 Photos Symposium Locations
The Conference Center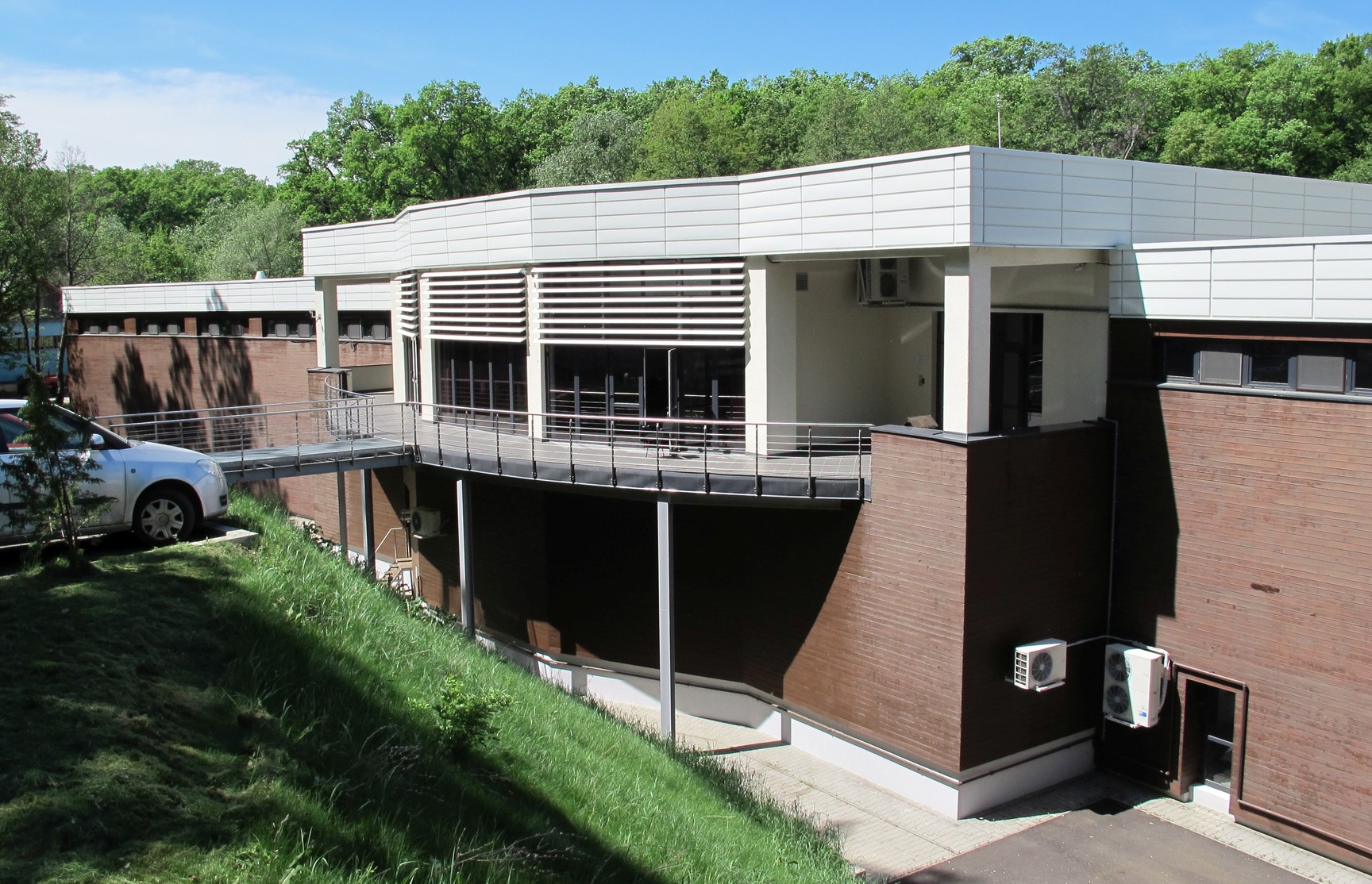 The Conference Room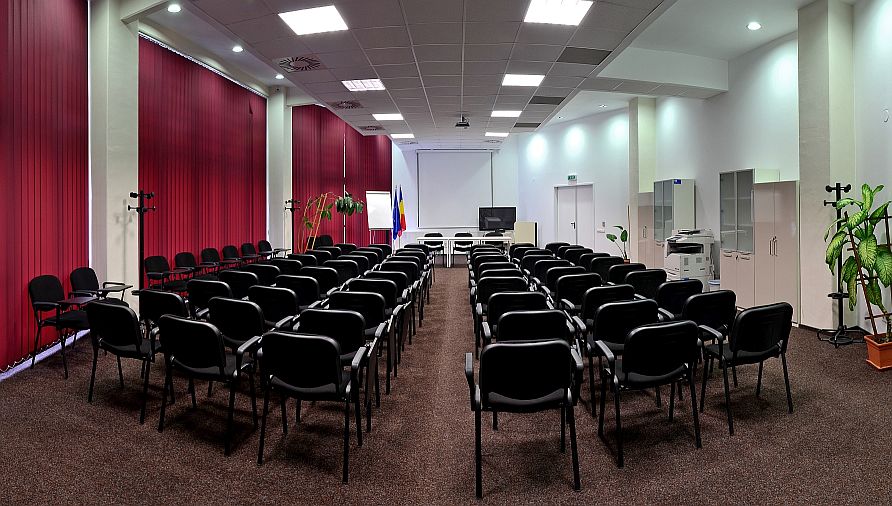 Restaurant Han Tulghes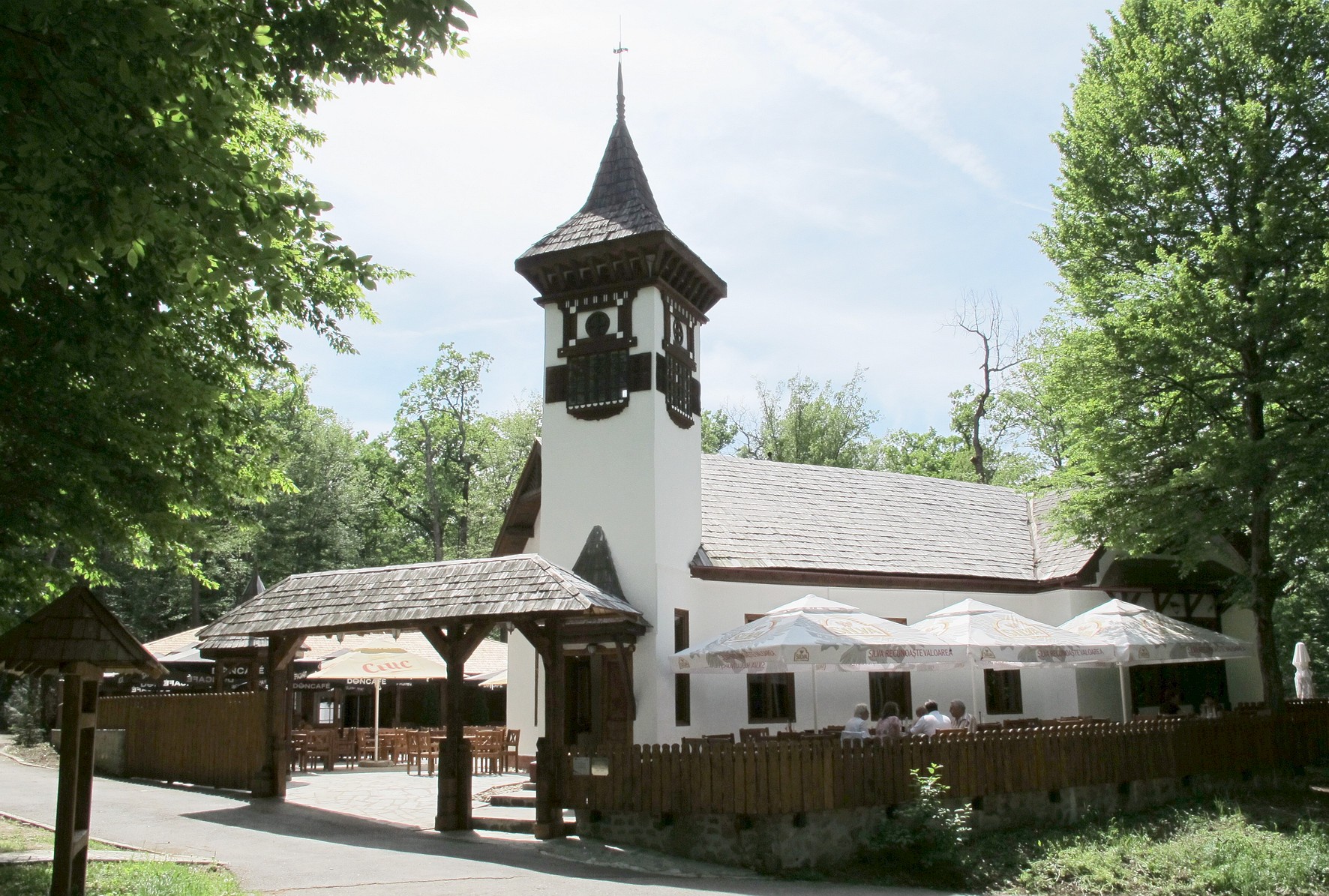 Vila Diana 1 (to the left) and 2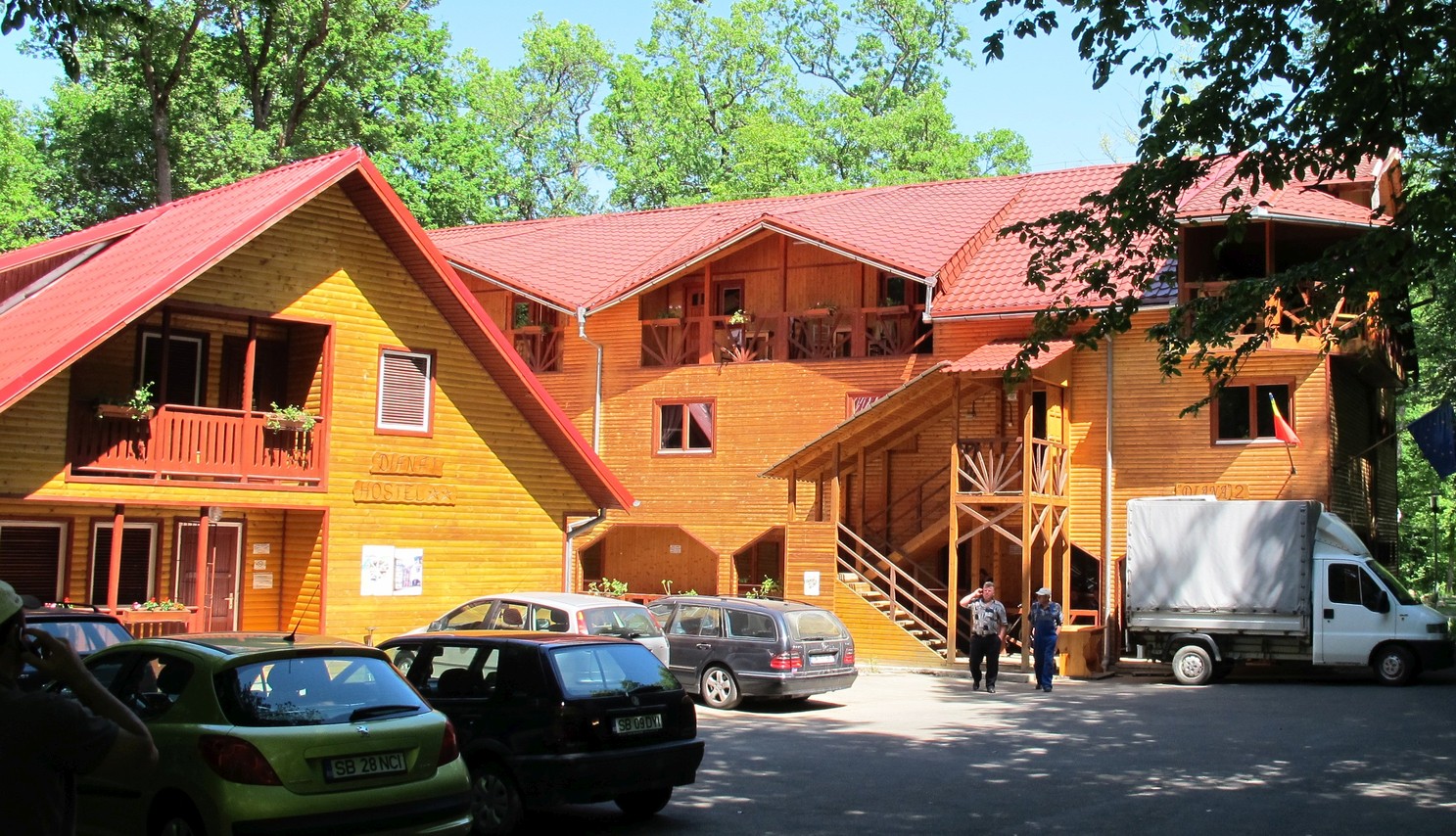 Room in Vila Diana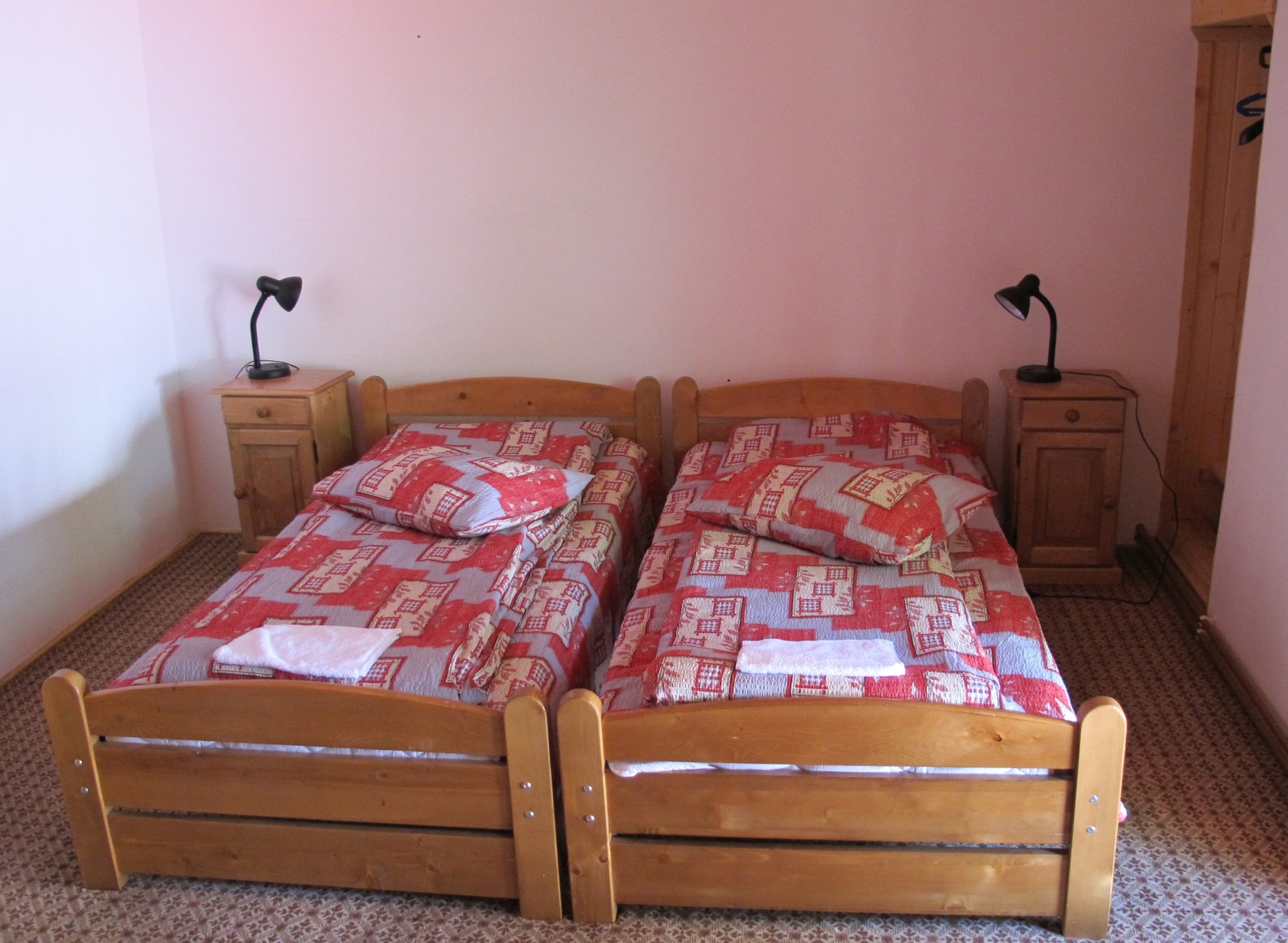 Han Vestem Hotel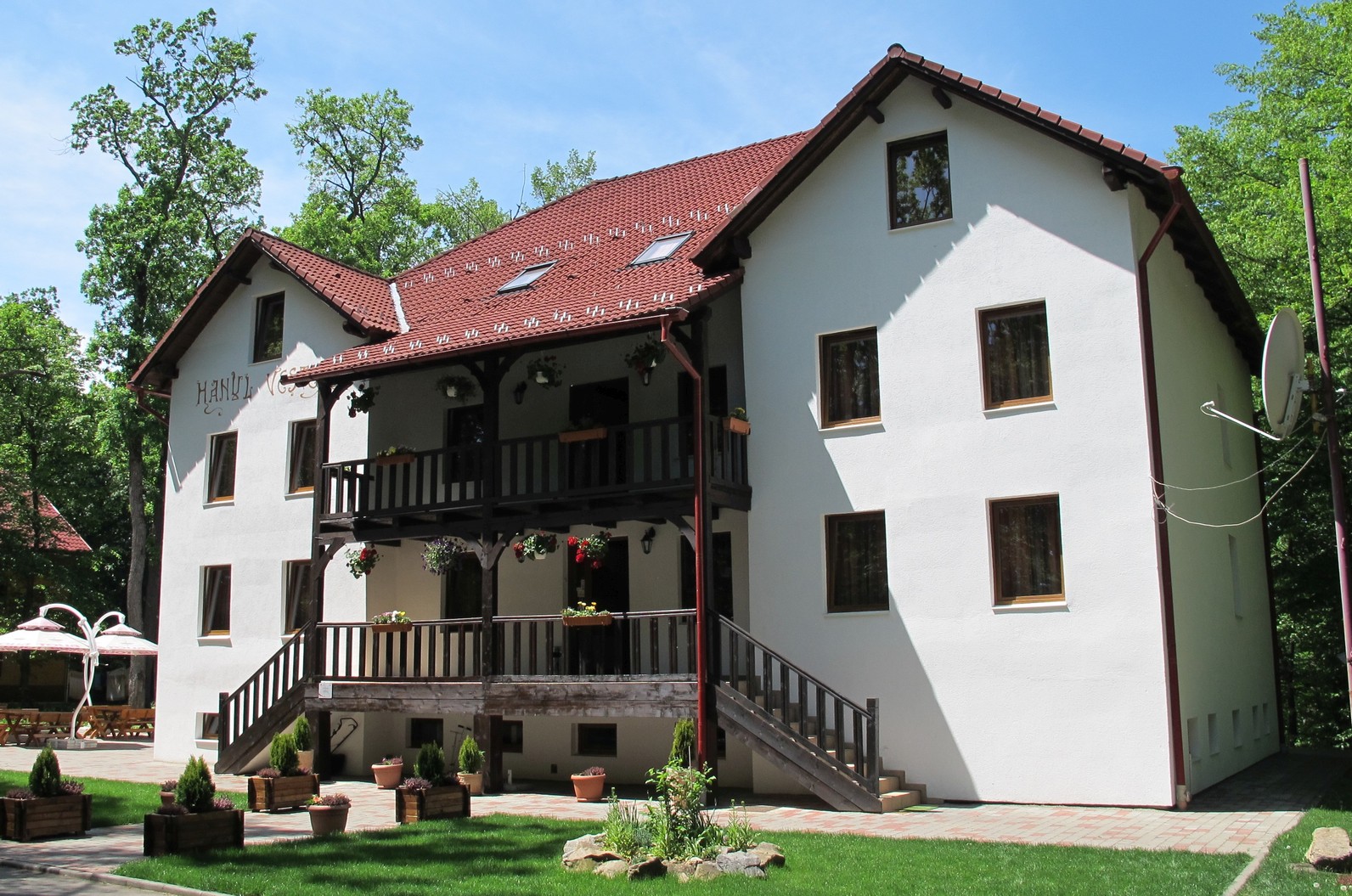 Room in Han Vestem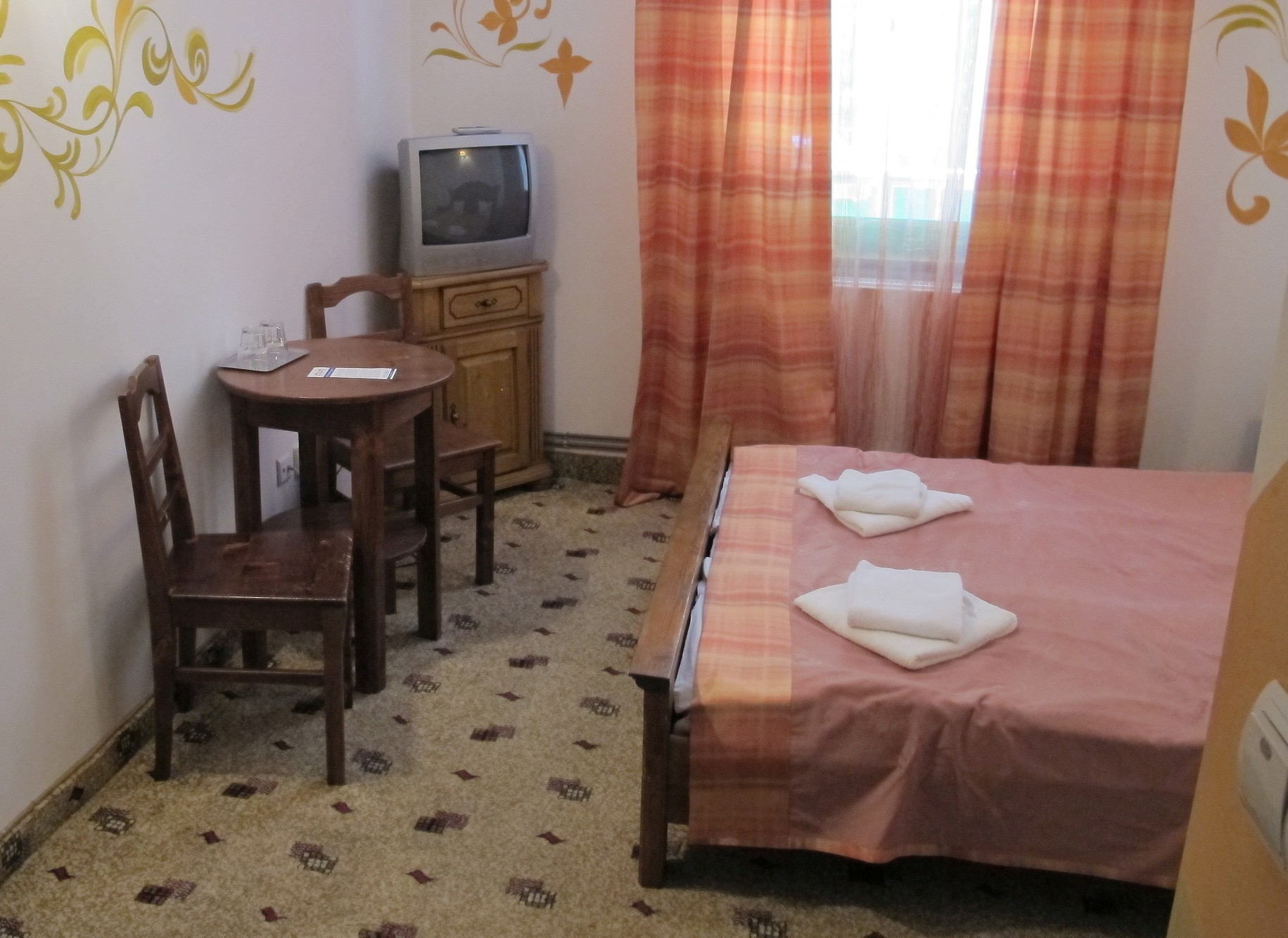 Sibiu City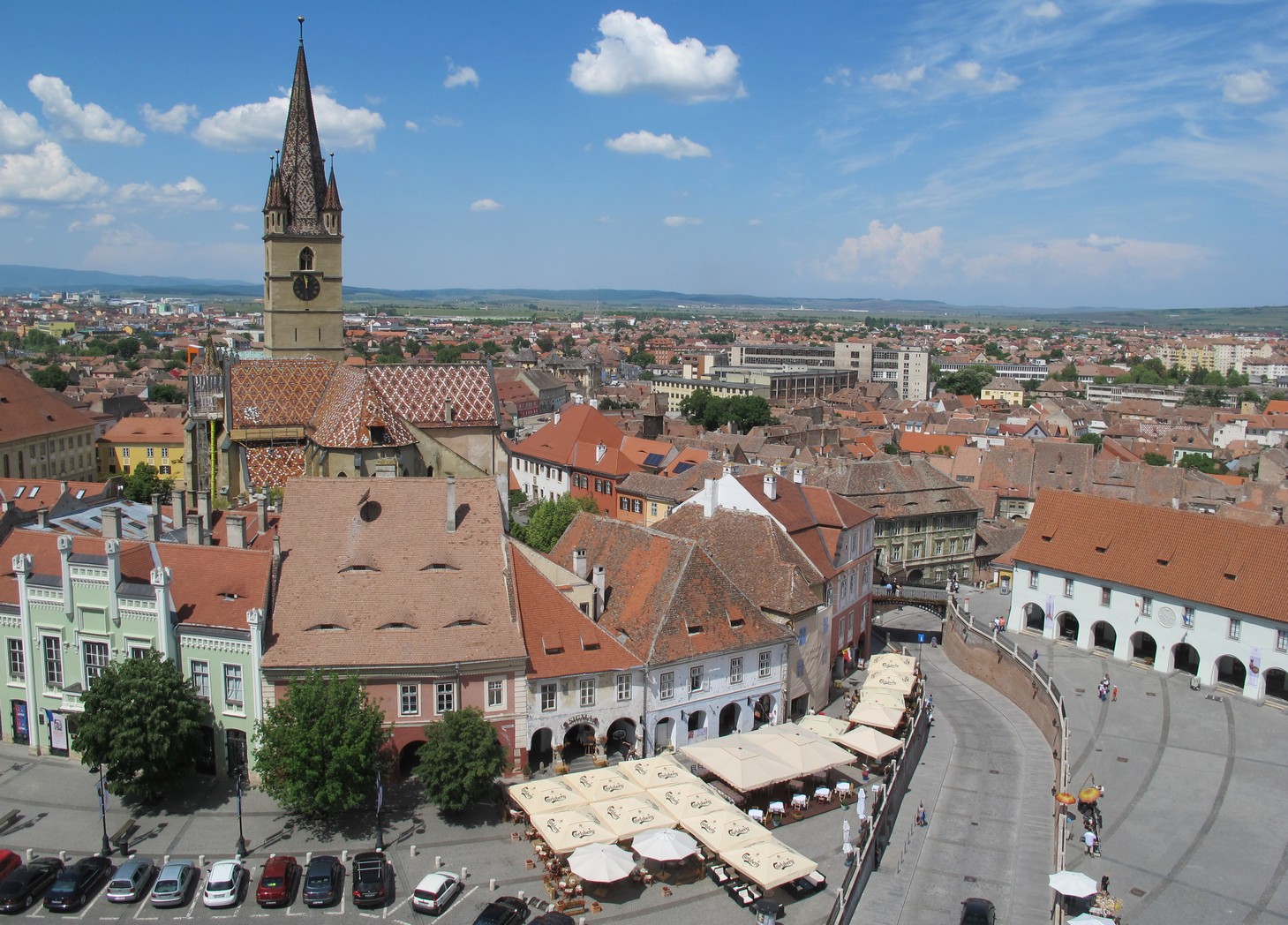 RO2015 Map of Romania
Map of Romania, showing the regions of the Pre- and Post-Symposium Tours
                                                         Blue Circle - Pre-Tour        Red Circle - Post-Tour        Yellow Circle - Post Tour Optional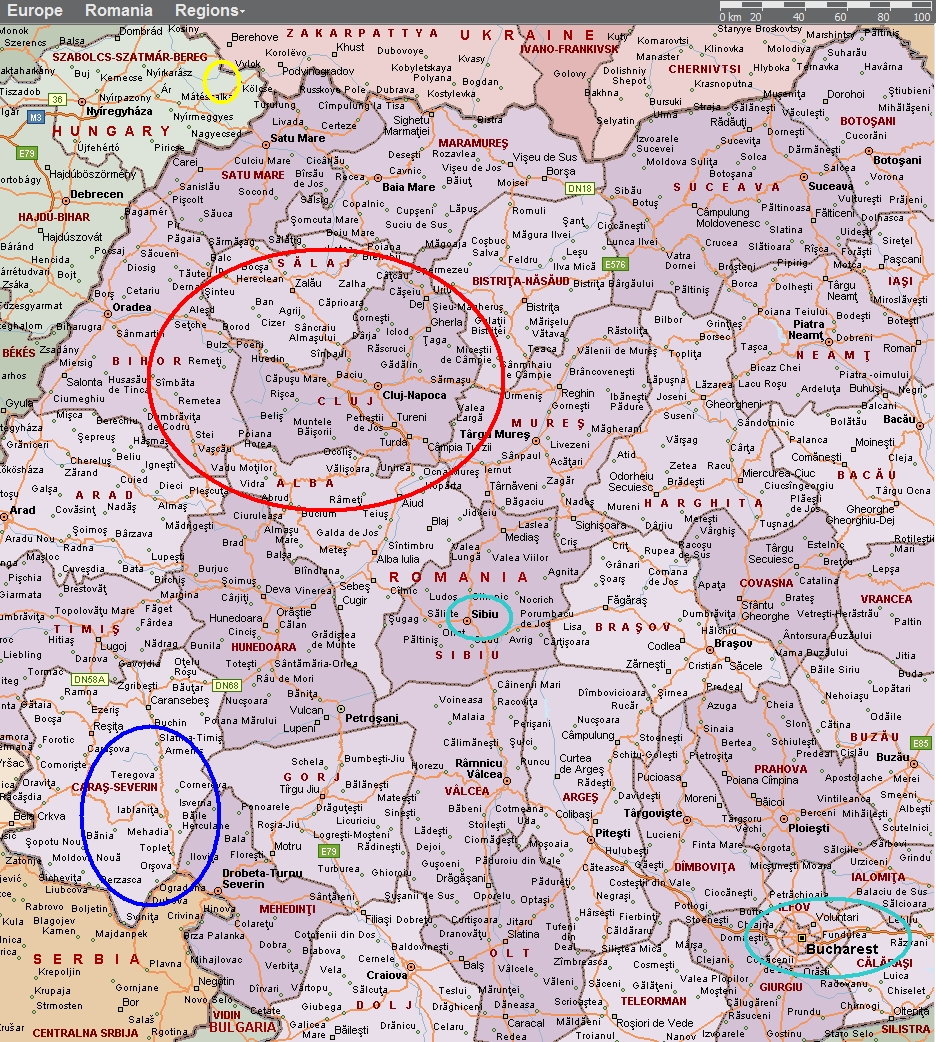 Blue Circle - Pre-Tour        Red Circle - Post-Tour        Yellow Circle - Post Tour Optional
RO2015 14th TIMS Symposium in Sibiu, Romania
T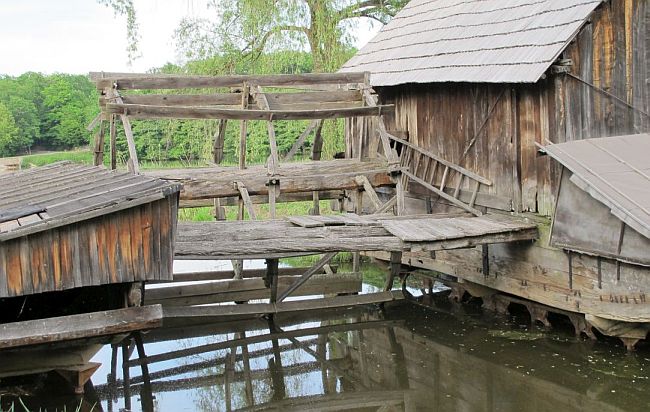 he 14th TIMS Symposium (RO2015) was held in the city Sibiu (Hermannstadt) in Romania. The Symposium took place from the 6th to the 14th of June 2015. In addition there was the opportunity to participate in a 4 days Pre-Tour to the south-west of Romania, as well as in a 7 days Post-Tour to the north-west of Romania and possibly Hungary.
As part of the symposium a visit was organized to the two fortified churches at Valea Villor and Biertan, as well as the medieval town of Sighisoara, all of which are UNESCO world heritage sites.
The venue of the Symposium
RO2015 took place on the grounds of the open-air Astra Museum in Sibiu (one of the largest ethnographical open air museums in Europe). The paper sessions and presentations were held in the congress center of the museum.
The museum itself has about 70 mills (a.o. water-, wind-, and boat mills), which can be visited as part of organised dedicated mill visits or simply independently. The museum has accommodation facilities as well as restaurants, which are very well suited to serve all participants and giving them the feeling to be at home.
The city of Sibiu
Sibiu, in German Hermannstadt, was the largest and wealthiest of the seven walled citadels (in German known as the Siebenburgen) built in the 12th century by German settlers known as Transylvanian Saxons. The wealth amassed by its guilds can still be seen in the constructions of both impressive buildings and the fortifications. Sections of the medieval wall still guard the historic city, where narrow streets pass steep-roofed 17th century buildings with gable overhangs before opening into vast, church-dominated squares such as Great Square and Little Square. Sibiu is a two leveled city: the Upper town, home to most of Sibiu's historic sights, and the Lower town, lined with colorful houses on cobblestone streets and bounded by imposing city walls and defense towers overlooking the river Cibin. Sibiu is also the European Capital of Culture 2007.  Sibiu has a very good shopping area for those who want buy gifts.
Accommodation options
At RO2015 there was the luxury of having various accommodation options (and price levels):
•    the museum owned Vila Diana 1 and 2 buildings
•    the Han Vestem hotel on the grounds of the museum, and
•    the Sibiu Hilton Hotel at a distance of 2km from the congress center.
RO2015 Invitation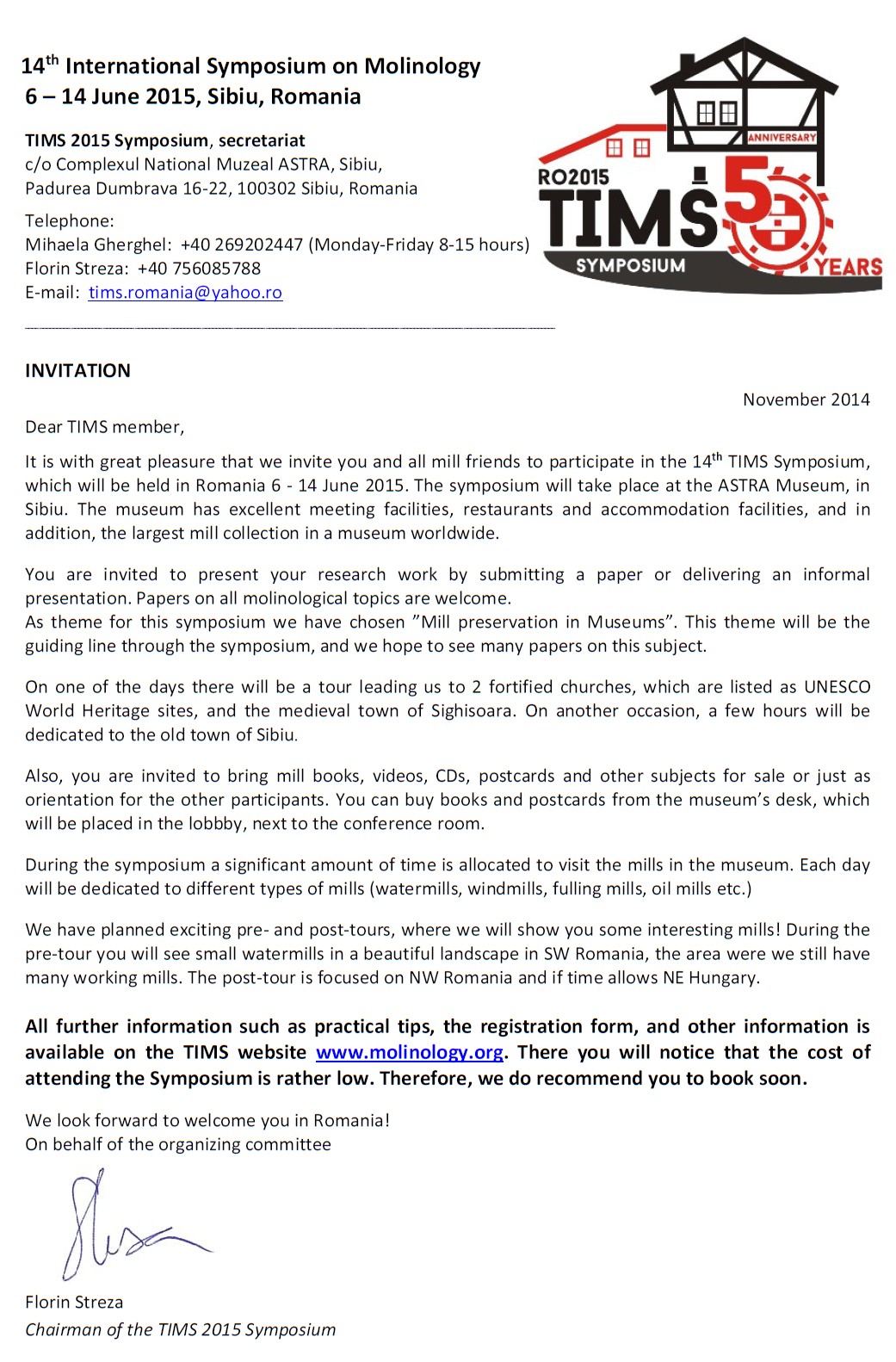 NL2007 Programme
Programme & Schedule
 

 

 

 

 

 

 

 

 

 

 

 

 

There was ample opportunity for participants to present papers and make informal contributions. It was also our intension to invite speakers on specialist subjects as well.

 

One of the symposium days was devoted to the special theme of water drainage, polder creation, water management and the essential role that mills have played in these processes.

 

On three days there were excursions to lesser known parts of Holland, where we visited mills that have a predominantly industrial function and are still operational. Many of the mills we could see working.

Also a spectacular steam pumping station with two waterwheels was on the programme.

 

Schedule: (still subject to alteration)

Saturday June 2nd

arrival; registration (afternoon until 6.00 pm);
6.00 pm: welcome reception followed by buffet.

 

Sunday   June 3rd

morning: formal welcome; keynote & paper presentations;

afternoon: paper & special themed presentations

evening: Council Meeting; free for others.

 

Monday   June 4th

morning: paper presentations;

afternoon: a choice of mill activities

evening: informal contributions.

 

Tuesday  June 5th

(after early wake-up call) all-day excursion to the eastern part of The Netherlands with an emphasis on industrial mills:

small village cornmill; medieval tower mill; horse mill; small open air museum with several interesting mill-related objects including a horse-driven oil mill; an electrically operated, but originally wind-powered, saw mill dating back to the 18th century; a tall post mill with three floors; a double watermill (corn- and oil mill); combined oil- and barley peeling windmill.

 

Wednesday June 6th

morning: paper presentations;

afternoon: General Meeting;

evening: informal contributions.

 

Thursday June 7th

(after early wake-up call) all-day excursion to the northern part of The Netherlands with an emphasis on industrial and drainage mills (long day!):

wind-powered saw mill; pumping station; wind engine; large wind-powered oil mill; very authentic wind-powered barley peeling and cornmill; drainage (smock) mill with shuttered sails; dinner en route.

 

Friday     June 8th

morning & afternoon: special themed mini-symposium lectures; paper presentations;

evening: Council Meeting; informal contributions.

 

Saturday June 9th

(after early wake-up call) all-day excursion to the central & western parts of The Netherlands with an emphasis on drainage mills:

fully operational steam-powered pumping station with scoop wheel; hollow post mill; very large cornmill (smock mill with stage) with auxiliary engine and lots of additional machinery; visit to famous millwrighting workshop; boat tour on Dutch lakes with a view of some 20 windmills & dîner d'adieu on board; late return to Putten.

 

Sunday   June 10th

departure after breakfast

(and: start of Post tour)

 

 

 

 

 

 

 

 

 

 

 

 

 

 

 

 

 

 

 

 

 

 

 

 

 

 

 

 

Last update: April 29th, 2012
NL2007 Pre-Tour
 Pre-Tour "Highlights of Holland"
 

 

 

 

 

 

The pre-tour started on the evening of Tuesday May 29th, 2007, and ended on Saturday June 2nd, 2007, after breakfast.

 

The tour had Holland's struggle with the sea and the polder creation process as a main theme as well as industrial milling in the Dutch Golden (17th/18th) Century. It took the participants to some of Holland's most famous, impressive and ancient "must-see" mills, mostly situated below sea level.

 

The tour began in Alkmaar and ended at the symposium hotel in Putten. Mill friends who had visited some of these mills before, experienced during this tour what the difference is between an individual visit and a specially prepared tour!

 

Schedule: (still subject to alteration)

Tuesday     May 29th

arrival; registration (3.00 - 6.00 pm); dinner and introductory presentation (6.30 pm); hotel in Alkmaar.

 

Wednesday May 30th

(after early wake-up call) the wind-powered drainage system (drainage mills) of the 17th  century Schermer polder below sea level, including museum; Zaansche Schans (oil/paint/saw mills and mill museum, historical village); hotel in Kinderdijk/Alblasserdam

 

Thursday    May 31st

world's largest cornmills in Schiedam; related distillery museum; working spice & tobacco windmills in Rotterdam; evening boat tour with a view of the 19 mills of UNESCO World Heritage Kinderdijk site; hotel in Kinderdijk/Alblasserdam

 

Friday       June 1st

visit of Kinderdijk mills and museum and 17th century former office building (with beautifully decorated and furnished rooms); hollow post drainage mill and working diesel pumping station at Langerak; post mills on city ramparts of Heusden; dinner and accommodation at symposium hotel Mooi Veluwe (Putten)

 

Saturday   June 2nd

end of pre-tour after breakfast

 

 

Optional Excursion to the Netherlands Open Air Museum

Saturday June 2nd, from 09.00 am to 4.00 pm; here the participants had the opportunity to visit the Open Air Museum in Arnhem.


 

 

 

 

Last update: April 29th, 2012
RO2015 Call for Papers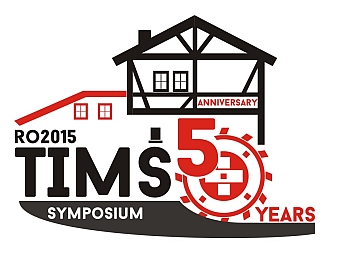 We call on all TIMS members and others to present their molinological research as a formal paper and/or as an informal, short contribution. Papers on all molinological topics are welcome.
We will try to let the theme "Mill preservation in Museums" be the guiding theme throughout the Symposium. Therefore, we especially would appreciate papers on this topic.
Deadline for submission of papers is 1st April, 2015. Please read and follow the "Formal Paper instructions", which can be found find here.
Symposium participants will be able to download the papers in advance from our website, and are expected to have read the papers; therefore, authors will receive only 20 minutes for presenting a summary of their paper and 10 minutes for engaging in discussion with the audience.
For informal contributions, we should receive information about the subject and the time you require (maximum 20 minutes including discussion).
All contributions must be in the English language. Facilities for Power Point, overhead and video presentation will be available. The Organising Committee will decide on the acceptance of submitted papers and informal contributions. The Organising Committee's decision is final.