Mid-Term Tour to Greece in retrospect
The Mid-term Tour Guide is available for download.
Gerald Bost has made some first impressions on video clips. Have a look here.
Photographs by the Cinema Club Andros
TIMS Midterm Tour in the UK, 2-10 September 2017
This tour will begin on Saturday 2nd September 2017 and will end on Sunday 10th September. It should be noted that this will be an 8 day coach tour with 7 full days visiting mills, one more day than for previous mid-term tours. As England was the first country to experience the industrial revolution (a revolution dependent on water power during its first 50 years) about half of the mills visited will be water powered industrial mills with applications such as cotton spinning, sawing, stone grinding, steel making, forging, knife sharpening, pumping, hydroelectricity generation, needle making, etc., the other half of the mills visited will be corn mills of various types, including a small number of interesting windmills.
The tour will begin on Saturday, 2nd September 2017 at the Crewe Arms Hotel with dinner at 7.00 pm. (The Crewe Arms Hotel is just opposite the railway station in the town of Crewe in Cheshire). There is a direct train service from Manchester Airport to Crewe running every hour. For anyone travelling to other airports, such as London, then Crewe is easily reached as it is a major junction on the railway network. For members travelling by car Crewe is about 3 miles from Junction 17 on the M6 motorway.
The tour will be based in two other centres other than Crewe during the week, namely Chesterfield in North Derbyshire, and Bromsgrove just south of Birmingham. These towns are not well known to tourists but are representative of ordinary middle size towns of England.
Provisional Program
Day 1 Sunday 3rd September – Cheshire
The first mill will be a working cotton mill with a massive suspension type waterwheel designed by William Fairbairn. Then we will visit an estate sawmill with a selection of water powered wood working machinery and two corn mills, one of which has two waterwheels one above the other so the tailrace of the first wheel is the head race of the second wheel.
Day 2 – Staffordshire
This day will concentrate on flint and bone grinding mills that were used to supply materials to the pottery works of North Staffordshire that were producing bone china and other ceramics. We shall also visit a working corn mill owned and operated by the Howell family. The Howells were long standing members of TIMS and members may remember Bill Howell who was at the Symposium at Putten in 2007. Much older members might remember Charlie Howell who emigrated to the USA to become the miller at Tarry Town in New York State who was also an active TIMS member. The day will conclude at our hotel in Chesterfield.
Day 3 – South Yorkshire
This day starts with a visit to a cutlery grinding mill followed by a steel works with a forge and sharpening mill. After lunch we will visit a large forge that used to manufacture railway axles. Finally we shall visit another corn mill.
Day 4 – North Derbyshire
Starting with an excursion into Yorkshire to see a mill used to manufacture putty and whiting. Afterwards we will visit and estate corn mill complete with suspension type waterwheel and a preserved water powered roller mill. At the end of the day there will be a couple a photostops and a visit to a millstone quarry.
Day 5 – South Derbyshire & Birmingham
Beginning with a visit to a restored small tower windmill with six patent sails, followed by one of the first iron framed cotton mills with its water supply arrangements and modern hydro-electric station. After lunch we will visit a beautiful estate built pumping station and two more preserved corn mills in the Birmingham region. Finally we will arrive at our hotel near Bromsgrove.
Day 6 – Warwickshire
The first two mills visited will be tower windmills in the region east of Birmingham, followed by a restored water powered mill that used to manufacture needles. In the afternoon we will visit a commercially working corn mill and a uniquely designed windmill dating from the early 17th century.
Day 7 – Worcester & Shropshire
This day begins with a visit to a working midland style post windmill followed by a waterpowered forge once used in the scythe and blade making industry. After lunch we will visit an iconic water powered corn mill with a very large diameter waterwheel and then end by looking at the remains of a 17th century water powered iron furnace and a typical country based corn mill lovingly put back in working order by one of our TIMS members.
On the following day, Sunday 10th September, we will all transfer back to our starting place at Crewe and those members with planes to catch will be taken on to Manchester Airport if required.
The cost for one participant sharing a double or twin bedroom will be £806 GBP, and for one participant occupying a room by themselves the cost will be £966 GBP, (please note that the hotels used do not have single rooms and therefore the full rate of a double room is charged for single occupancy). This can be paid in two installments but the total should be paid before 1st April 2017. This fee will include all hotel accommodation including breakfast, lunch and evening dinner for 8 nights (all alcoholic beverages will be extra and the participants' responsibility), coach hire with driver's accommodation and food. Participants will be responsible for their own travel arrangement to and from Crewe and their personal travel insurance.
It is possible that participants may want to extend their stay in England as many of the usual tourist destinations are within easy reach of Crewe (i.e. North Wales, Lake District, Scotland, and almost anywhere else in England). If any participants want to reserve extra nights at the Crewe Arms Hotel either before or after the mid-term tour these can be arranged at the same time as the tour.
9º Congreso Internacional de Molinología - Murcia, 9-11 May 2014
An International Congress on Molinology will take place on 9-11 May, 2014 in Murcia, Spain.
Futrher information can be found on the website of the congress.
Seasons Greetings 2014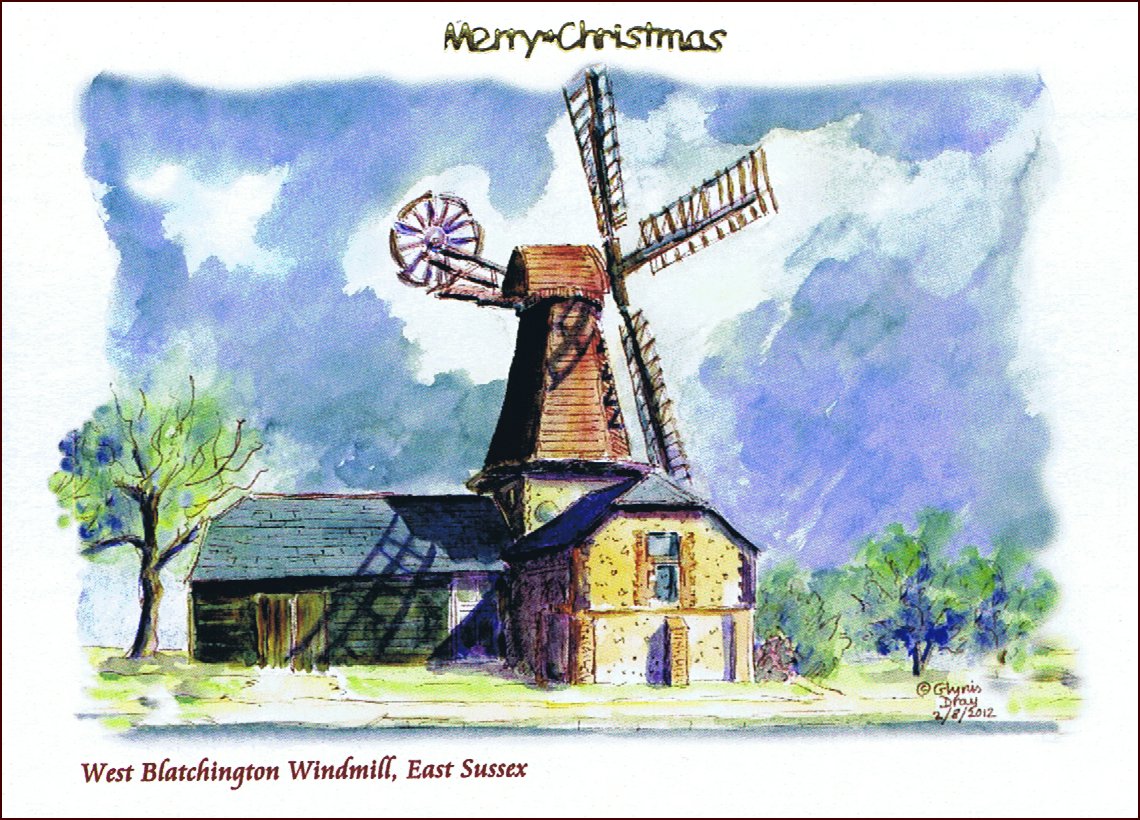 Joan & Peter Hill UK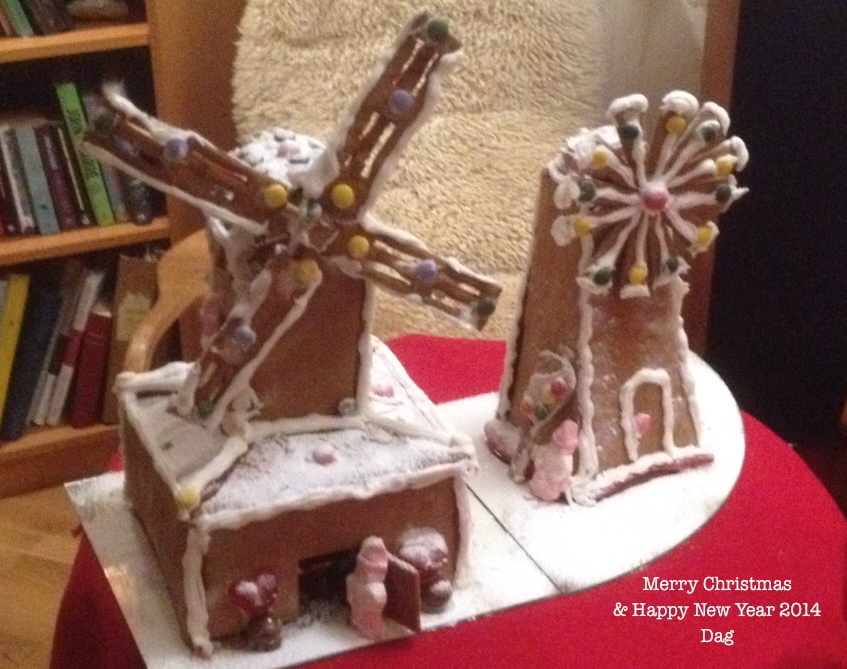 Dag Midböe SE
Mihkel Koppel EE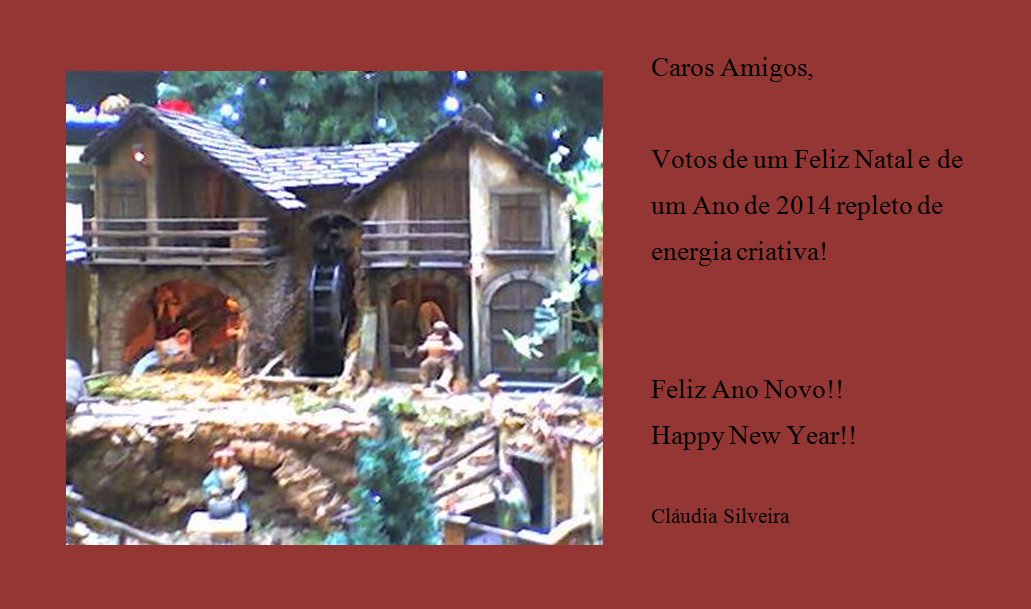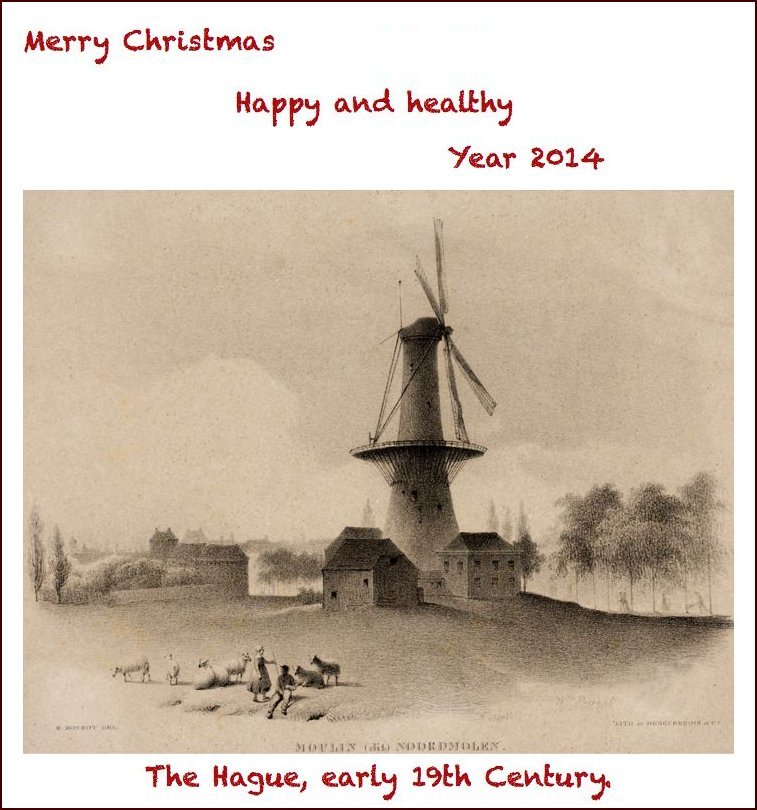 Wiard Beek - NL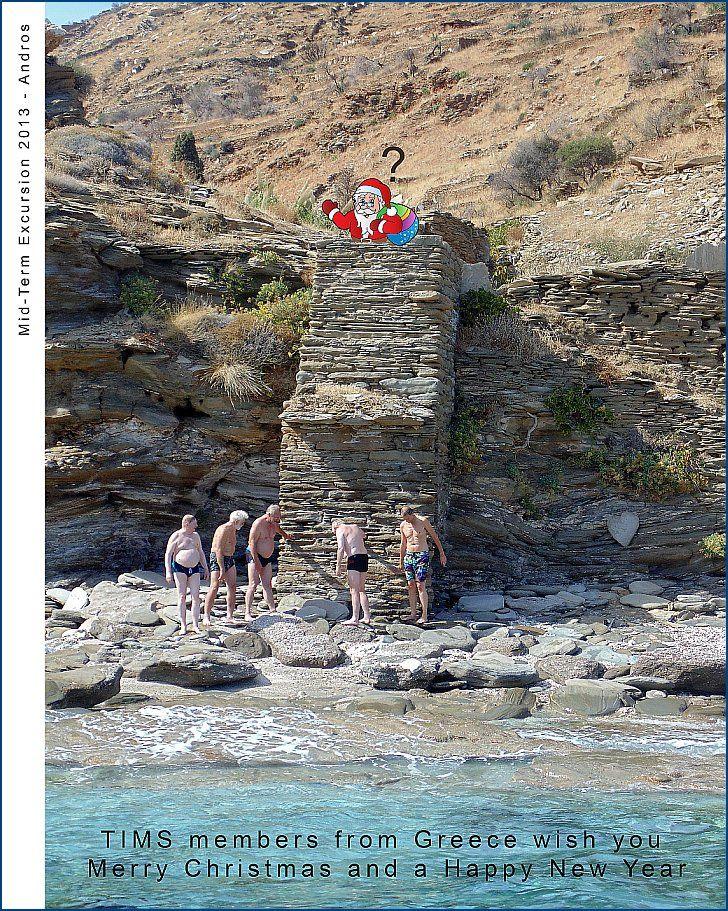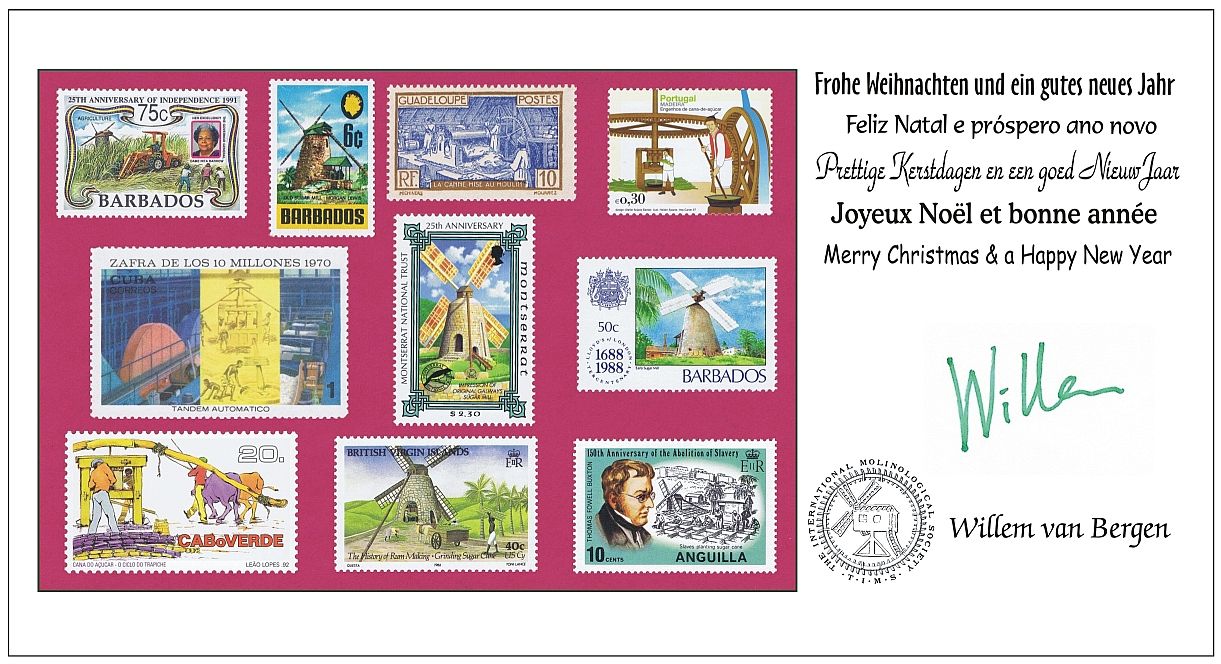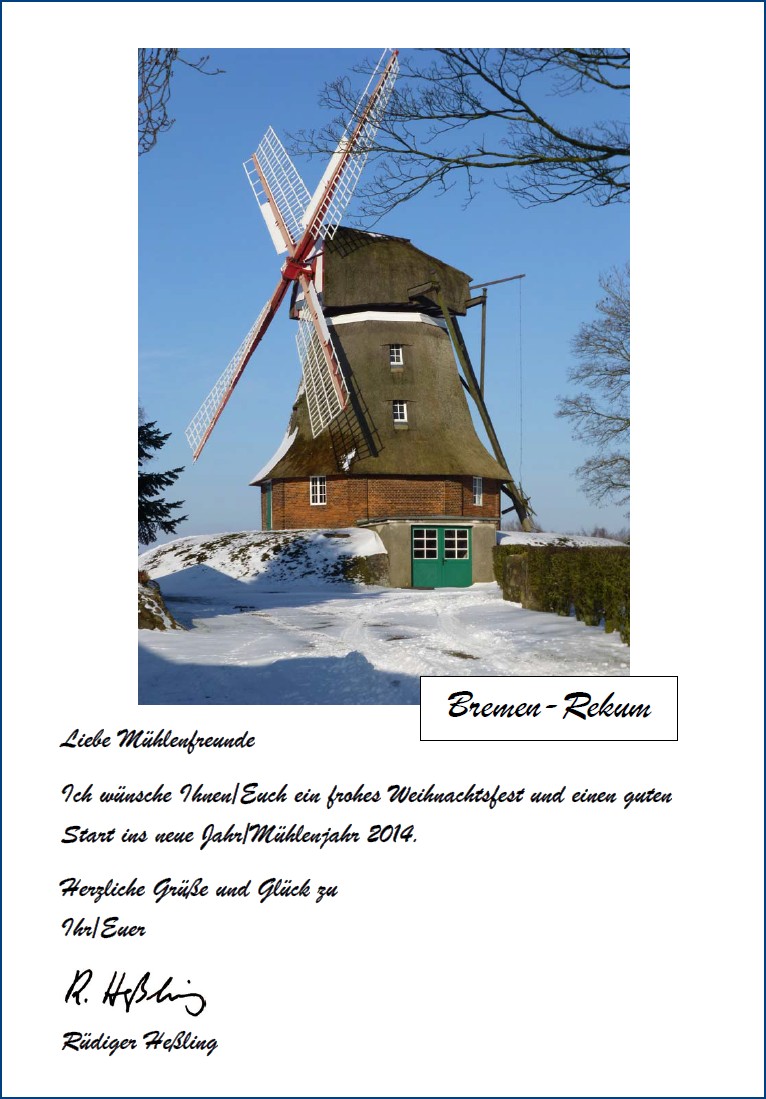 TIMS Calendar 2014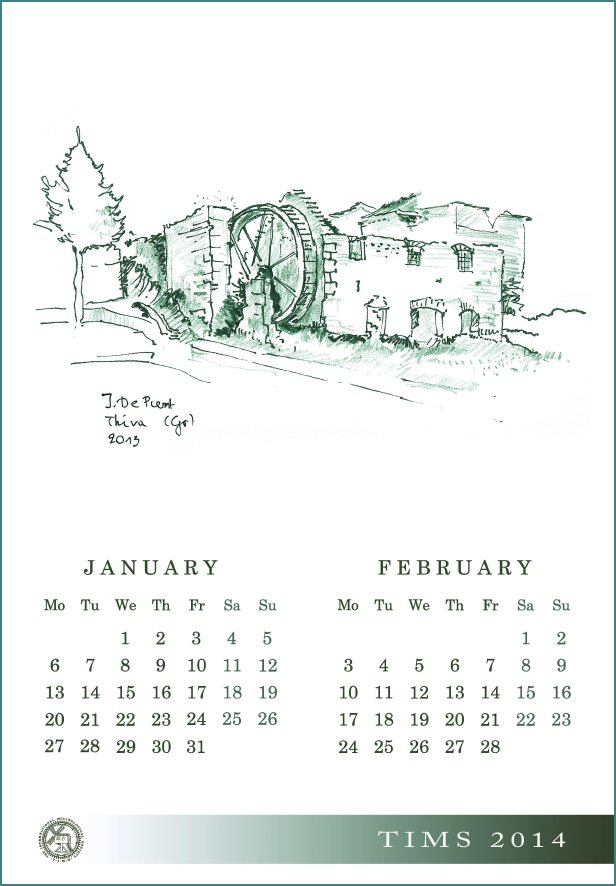 The TIMS calendar has become a tradition. This time, Johan De Punt is sharing with you some beautiful sketches of mills visited during the 2013 Mid-Term Tour in Greece.
As in the years before the calendar was made by Olga and Katerina.
The calendar can be downloaded here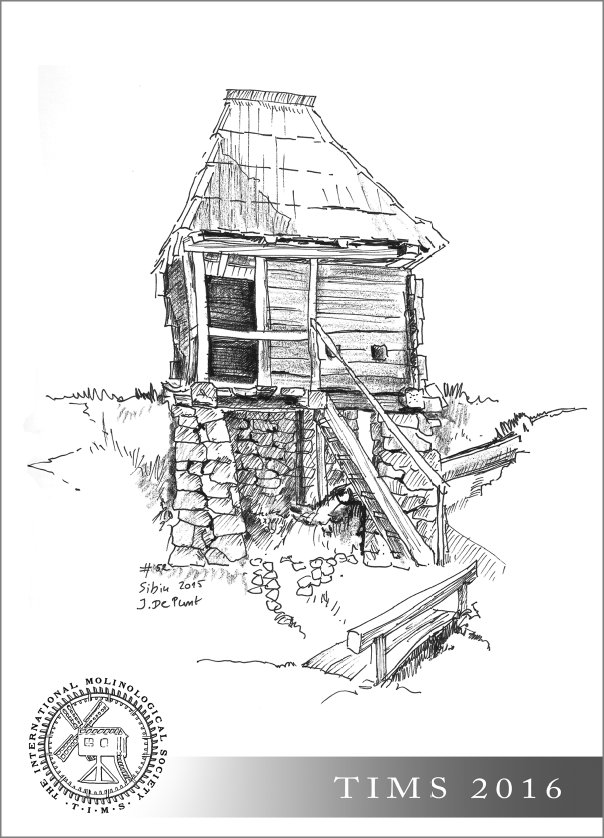 The TIMS Calendar for 2016 is now available for download.
5th International Colloquium on the Archaeology and Geology of Mills and Milling - Almería, 5-8 March 2014
Tilting at mills. The 5th international colloquium on the Archaeology & Geology of mills and milling - Museo arqueológico in Almería (Spain), 5-8 March 2014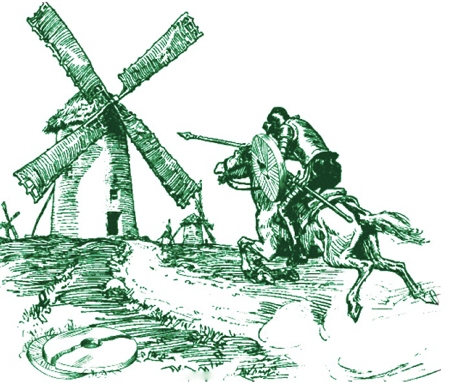 This is to invite you to the above colloquium. It follows the highly successful colloquia held at La-Ferté-sous-Jouarre (2002), Grenoble (2005), Rome (2009) and Bergen (2011). The proceedings will open on the evening of 5th March with a keynote lecture (lecturer to be advised) and will be followed by two days of papers and posters. The final day (8th March) will be devoted to an excursion after which the colloquium will close. The conference will take place in the Museo Arqueológico of Almería with the kind permission of the Consejería de Cultura, Junta de Andalucía.
There are numerous hotels in Almería, but the Vita Gran Hotel, Avenida Reina Regente, 8, is nearby and has been designated as the conference hotel. Special rates: €55 single, €60 double (using keyword: colloquium millstones). There are many alternatives and a list can be sent on request.
Almería is popular with budget airlines such as EasyJet, Vueling, Air Berlin, etc., but is served by frequent Iberia flights from the Madrid hub, which connects with all major cities in Europe. Alternatively it is possible to fly to Malaga, Murcia or Granada and take the comfortable and very reasonable express bus to Almería (details www.alsa.es).
A registration fee of € 55 or £50 is required and papers or posters cannot be accepted until this is received.
Please complete the form below and return it either via email (This email address is being protected from spambots. You need JavaScript enabled to view it.) or to a postal address below with your cheque or proof of bank transfer no later than 15th December 2013.
The colloquium will follow the pattern established at La-Ferté, Grenoble, Rome and Bergen, with the following broad themes:
1. Ancient, medieval and recent millstone quarries
2. Quality, production and trade in querns and millstones. Economic quantification. To include archaeometrical studies.
3. Millstones in action: agriculture, ore processing, glass making. To include ethnographic studies.
4. Protection and evaluation of millstone quarries
5. Poster sessions
These themes are intended to be indicative, but there will be no restrictions on other topics being included and there will be no chronological constraints.
20 minutes maximum is allocated for individual lectures. If the quantity of contributions exceeds the time available, a selection may be made. The remaining papers can be presented as posters. The colloquium languages will be Spanish, English, Italian, French and German.
The French Groupe Meule is organising another conference in Reims in May 2014 and it may seem that mill conferences are like London busses – after a long wait two come together. However, there are logistical reasons why both must take place in 2014. We have discussed this with the Reims committee and agree that, in this rapidly developing subject, there is scope for two conferences and hope that both will be well attended.
Reims will be focused on the important and innovative work of the Groupe Meule and will consider the period from the Neolithic to AD 1000, principally in France. Almería will be without period restriction and papers ranging from the Palaeolithic to the present day, from any part of the world, will be welcomed.
Timothy Anderson, David Peacock and David Williams
Email: This email address is being protected from spambots. You need JavaScript enabled to view it.
Photos and Videos of the 2015 TIMS Symposium in Sibiu, Romania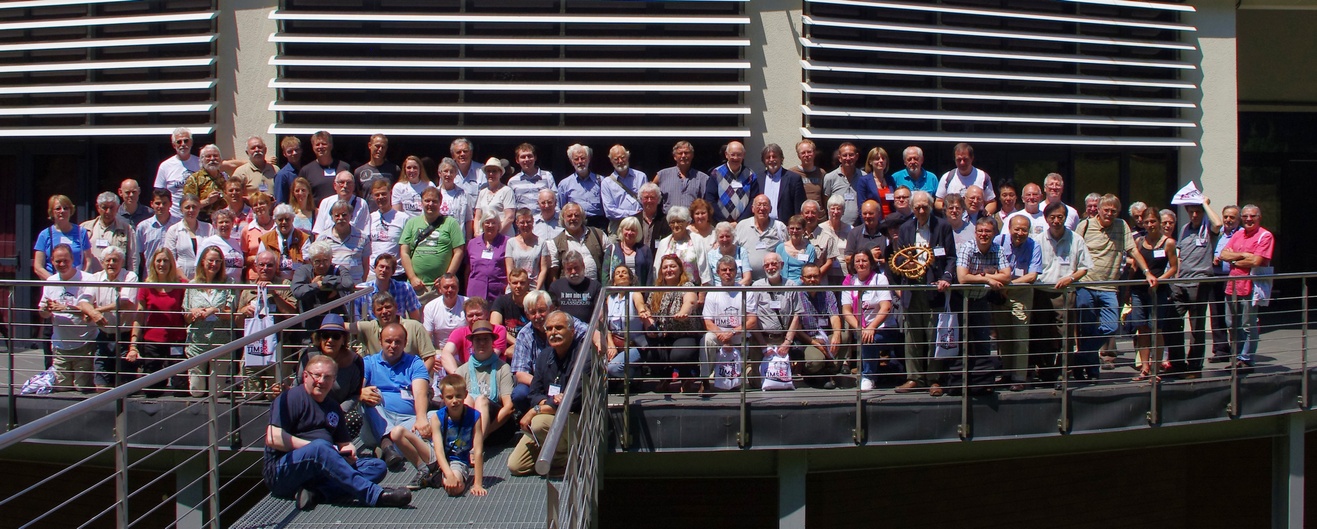 Photos by Olena Krushynska:
Videos by Gerald Bost:
10th ACEM Congresos Internacionales de Molinología - Segovia, 20-22 May 2016
ASOCIACIÓN 10º CONGRESO INTERNACIONAL DE MOLINOLOGÍA – ACEM
From May 20 to 22, held at Teatro Juan Bravo in Segovia, Spain.
Website: www.molinologia2016.es
Email: This email address is being protected from spambots. You need JavaScript enabled to view it.
PRESENTATION OF THE SYMPOSIUM
The International Conferences on Molinology (Congresos Internacionales de Molinología) are the national referent on the study of mills and other ancient machinery in Spain. Along two decades the Association for the Conservation and Study of Mills (A.C.E.M. by its acronym in Spanish) have promoted these meetings, and speakers and attendants to these conferences have gather a wide knowledge concerning this cultural heritage.
The 10th Internacional Congress on Molinology Association and ACEM organize this edition in Segovia (Spain). The theme "cultural turism" assignated to this congrees pretends to underline the value of this heritage as a source of knowledge, recreation and wealth.

TO WHOM IT MAY CONCERN
Attendance at the conference is open to all people and entities interested in the study and conservation of mills and ancient machinery. Participation may include attendance at working sessions and technical visits as well as presenting a communication or a poster.
Because of its multidisciplinary character attendace may be of interest to architects, engineers, restaurateurs, ethnographers, anthropologists, geographers, historians and other specialists and researchers associated with ancient machinery or tradicional industrial techniques.
Denkmal - 8 to 10 November 2018

Denkmal - Europe's Leading Trade Fair for Conservation, Restoration and Old Building Renovation
The diversity of heritage protection and restoration and the challenges they face today require an enormous, well-founded knowledge base, extensive practical experience, traditional craft and restoration technique skills and the courage to innovate.
Since 1994 Leipzig has stood for this principle with the denkmal trade fair, which has become the most important get-together for the interdisciplinary transfer of knowledge within our industry when it is held there every two years. The high quality and broad spectrum denkmal covers in every segment, its pronounced specialised nature, the diversity of the issues it addresses, its wide range of exhibitor presentations and practical demonstrations, "Living Workshops", activity spaces and its elaborate programme of events and features are the trademark of our industry's leading European trade fair.
Right from the start denkmal has been characterised by top technical expertise and an international character, along with extraordinarily high educational and experience value. Everyone involved has the opportunity for outstanding synergies, thanks in particular to the transfer of specialised knowledge and networking on offer, as well as the intersections between culture and the business world along with the innovations in heritage conservation and restoration.
Leipziger Messe collaborates with experts to organise the top quality congresses, national and international specialist events, seminars, workshops, specialised company presentations, podium discussions and expert discussion rounds, numerous award ceremonies and special shows. And the specialised company lectures and presentations held at the individual exhibition stands also enrich and add to the appeal of Europe's leading trade fair for our industry.
More information can be found on the Denkmal website.
Tide Mill Institute - 11th Annual Conference - Beverly MA, 6-7 November 2015