T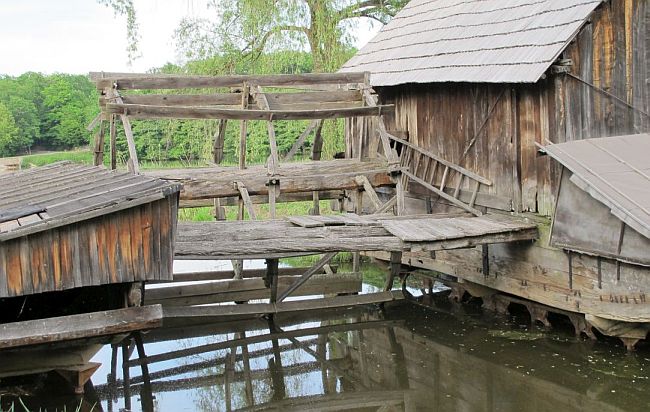 he 14th TIMS Symposium (RO2015) was held in the city Sibiu (Hermannstadt) in Romania. The Symposium took place from the 6th to the 14th of June 2015. In addition there was the opportunity to participate in a 4 days Pre-Tour to the south-west of Romania, as well as in a 7 days Post-Tour to the north-west of Romania and possibly Hungary.
As part of the symposium a visit was organized to the two fortified churches at Valea Villor and Biertan, as well as the medieval town of Sighisoara, all of which are UNESCO world heritage sites.
The venue of the Symposium
RO2015 took place on the grounds of the open-air Astra Museum in Sibiu (one of the largest ethnographical open air museums in Europe). The paper sessions and presentations were held in the congress center of the museum.
The museum itself has about 70 mills (a.o. water-, wind-, and boat mills), which can be visited as part of organised dedicated mill visits or simply independently. The museum has accommodation facilities as well as restaurants, which are very well suited to serve all participants and giving them the feeling to be at home.
The city of Sibiu
Sibiu, in German Hermannstadt, was the largest and wealthiest of the seven walled citadels (in German known as the Siebenburgen) built in the 12th century by German settlers known as Transylvanian Saxons. The wealth amassed by its guilds can still be seen in the constructions of both impressive buildings and the fortifications. Sections of the medieval wall still guard the historic city, where narrow streets pass steep-roofed 17th century buildings with gable overhangs before opening into vast, church-dominated squares such as Great Square and Little Square. Sibiu is a two leveled city: the Upper town, home to most of Sibiu's historic sights, and the Lower town, lined with colorful houses on cobblestone streets and bounded by imposing city walls and defense towers overlooking the river Cibin. Sibiu is also the European Capital of Culture 2007.  Sibiu has a very good shopping area for those who want buy gifts.
Accommodation options
At RO2015 there was the luxury of having various accommodation options (and price levels):
•    the museum owned Vila Diana 1 and 2 buildings
•    the Han Vestem hotel on the grounds of the museum, and
•    the Sibiu Hilton Hotel at a distance of 2km from the congress center.