I.J. de Kramer Award 2012 for Frank Becuwe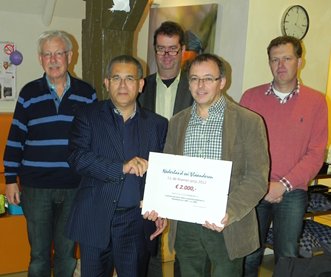 During the autumn meeting of TIMS Netherlands and Flanders on November 10, 2012, the I.J. de Kramer Prize 2012 was awarded to the Flemish author Frank Becuwe for his publication "In de ban van Ceres: klein- en grootmaalderijen in Vlaanderen (ca. 1850 – ca 1950)"
The prize amounting to € 2,000 was handed over by Peter Tergau, chairman of TIMS NL/VL.
On the picture: foreground left to right: Peter Tergau and Frank Becuwe, background left to right: Members of the jury Erik Stoop, Lieven Denewet and Ton Meesters (Photographer: Popke Timmermans).
The press release (in Dutch) can be downloaded here.
Popke Timmermans de fotograaf