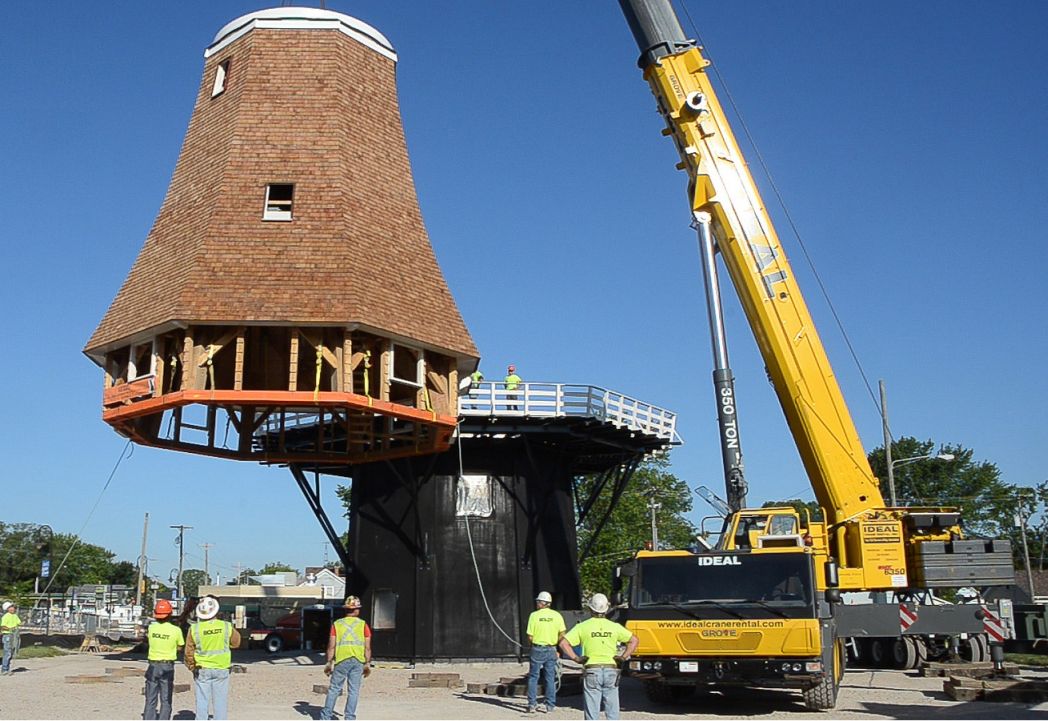 On June 7, the Big Lift at the Little Chute Windmill took place. The Boldt Company, working closely with Dutch millwright Verbij from Hoogmade in the Netherlands, used a 300-ton crane to hoist the massive octagon frame into place atop the windmill's base, followed by the cap, blades, tail structure and the main and long gussets. The ceremonial high point of the lift will then follow with the head structure (cap) and its flags being put into place on top of the octagon piece. Additional lifts will continue throughout the day as the Little Chute Windmill begins to take its final shape.

If you're interested you can look at a photo album of some photos from the event at the flickr page of The Bold Company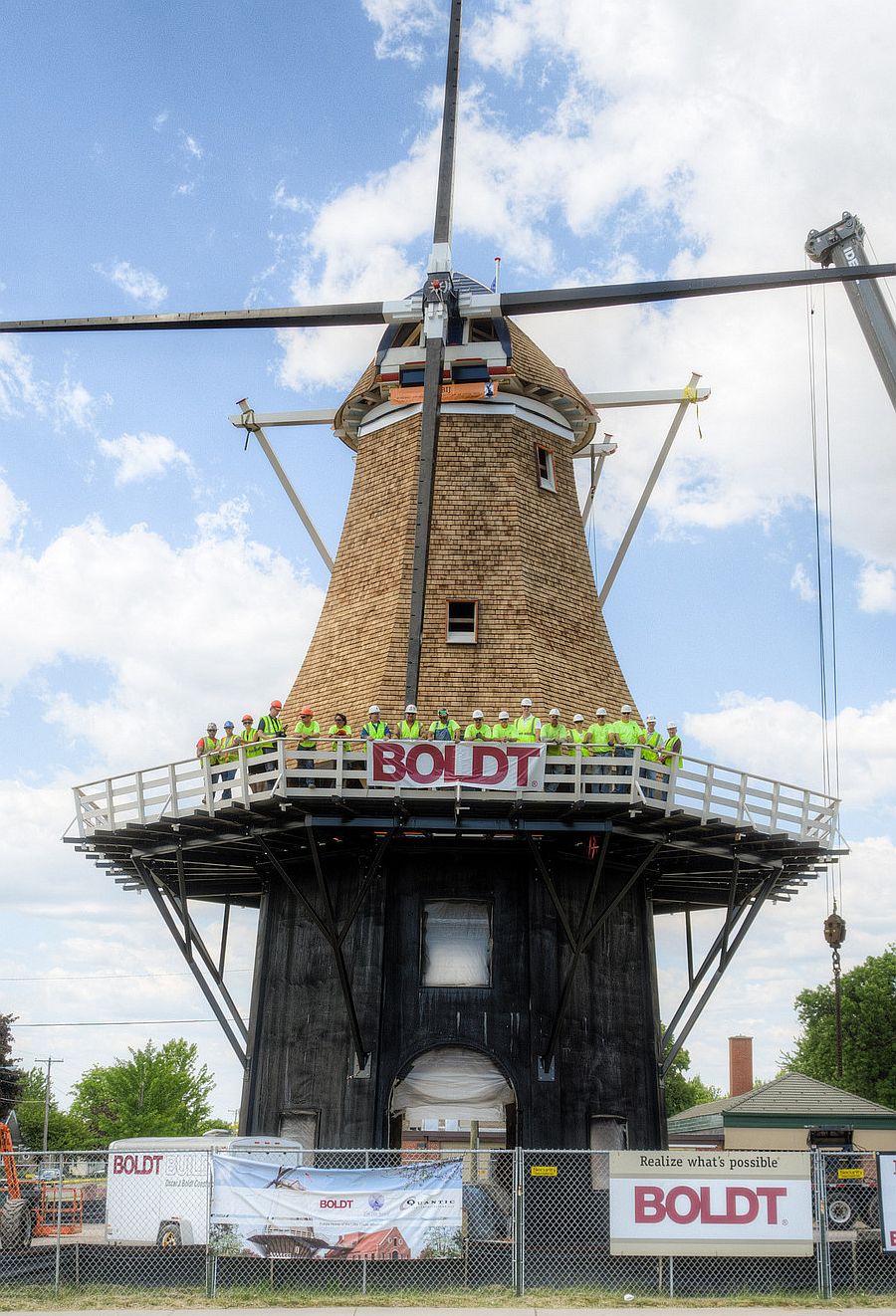 The Boldt and Verbij Hoogmade BV crew in Front of the Nearly Completed Little Chute Windmill
The windmill will start operating in July 2012 with the help of volunteer millers and the entire project is scheduled for completion in December 2012. Fundraising to complete the project is ongoing by Little Chute Windmill, Inc., the nonprofit organization behind the project—to donate, visit www.littlechutewindmill.org or call (920) 788-2629.
To see the current progress on the Little Chute Windmill and Visitor's Center, view the live construction webcam at http://webcam.boldt.com/lcwind/vid.html.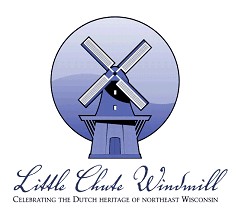 ABOUT LITTLE CHUTE WINDMILL, INC. www.littlechutewindmill.org
Little Chute Windmill, Inc. is a 501c3 nonprofit organization erecting an authentic Dutch windmill and heritage center in downtown Little Chute, WI, as a monument to Wisconsin's Dutch heritage. The Little Chute Windmill & Van Asten Visitor Center will be an educational tool for all ages and a hub of Dutch cultural activity. Visitors will tour the different levels of the windmill and watch it harness wind power to grind grain into flour. The Van Asten Visitor Center will feature exhibits on the history of Dutch settlement in the Fox River Valley and northeast Wisconsin.

ABOUT THE BOLDT COMPANY www.boldt.com
The Boldt Company, headquartered in Wisconsin, has 14 offices throughout the United States and is one of the leading sustainable construction services firms in the country. The firm provides professional construction services to customers in a variety of power, industrial, education, healthcare, commercial and renewable energy markets nationwide. The firm has been recognized as one of the safest companies in America.
The information contained in this e-mail message may be privileged, confidential and protected from disclosure. If you are not the intended recipient, any dissemination, distribution, copying, printing or other use is strictly prohibited. If you have received this e-mail message in error, please contact the sender immediately and delete the material from all computers.
FOR MORE INFORMATION CONTACT
From The Boldt Company:   Patrick Casey,  Phone: (920) 225-6159,  Email: This email address is being protected from spambots. You need JavaScript enabled to view it." data-mce-href="mailto:This email address is being protected from spambots. You need JavaScript enabled to view it.">This email address is being protected from spambots. You need JavaScript enabled to view it. 
                     OR                      Mary Schmidt,  Phone (M): (920) 284-7165,  Email: This email address is being protected from spambots. You need JavaScript enabled to view it.
From Little Chute Windmill, Inc.:  Robin Dekker (Little Chute Windmill, Inc.),  Phone: (920) 788-2629, Email: This email address is being protected from spambots. You need JavaScript enabled to view it." data-mce-href="mailto:This email address is being protected from spambots. You need JavaScript enabled to view it.">This email address is being protected from spambots. You need JavaScript enabled to view it.